Basic Talent Development Policy
Respecting the diversity and individuality of employees and developing globally-minded human resources capable of delivering superior value
The basic talent development policy of the Brother Group is to develop self-directed employees. In line with this policy, the group aims to help each and every employee understand and sympathize with Brother's vision, translate it into action voluntarily, and achieve results.
Regarding the company's relationship with its employees, as stated in the "Our Associates" section of the Brother Group Global Charter, the Brother Group gives priority to:
respecting diversity;

enabling associates to utilize their talents and abilities to the fullest; and

giving them great opportunity through challenging work assignments.
The Brother Group believes that talent development tailored to individual countries, regions, and business segments and the upgrade of relevant systems lead to helping employees fully use their talents and skills over a long period of time. Based on this idea, the group is committed to creating a better talent development environment and building various systems. With globalization, advances in information technology, diversification in lifestyles and other drastic changes in the work style environment in recent years, Brother Industries, Ltd. (BIL) is facilitating more proactive career development for its employees and is organizing career development programs targeting important milestones in their career, starting from new employees by their positions. In addition, the Brother Group provides support in self-development, such as in languages, to encourage employees to acquire skills for them to play active roles at the global level.
Approach to Talent Development
The basis of Brother's talent development is independent self-learning mainly through various job experiences and rotations. In other words, employees go through the stages of learning through their work, reflecting on their specific experiences, and applying the lessons gained from the experiences. Through this process, employees can better learn from their experiences and incorporate them into their practices.
In addition, feedback from supervisors and colleagues is indispensable for reflection on experiences. To gain such feedback, we emphasize the conduct of career consultations and formulation of career development plans on a periodic basis.
Goal Management System
Brother Industries, Limited (BIL) has introduced a "Mokuhyo-Challenge program (Tackling the Goal program)" as part of its personnel evaluation system. In the program, an interview is first conducted between an employee and his or her supervisor at the start of the fiscal year. Here, the policies of the department and the supervisor are confirmed before setting down goals for the employee to tackle. In the course of this process, the employee develops his or her own career development plan, and the supervisor confirms how he or she is to be involved in the plan. At the end of the fiscal year, an interview is conducted again to examine results to determine the degree of achievement of the goal. When evaluation is finalized, feedback interview is conducted to explain to the employee the reasons for the evaluation and to give ideas for setting goals for the next fiscal year. The evaluation results are also reflected in bonus payments. Under this open program, the group believes that both the employee and the supervisor are able to gain greater understanding of each other and at the same time improve their respective job performances, and ultimately make their contributions to growth of the company.
Details of Education System and Training
As a part of the talent development efforts at BIL, we are providing a career design program for employees at milestone ages to review their experiences and changes in their environments and visualize their future visions, extension training that accepts employees who wish to participate to learn necessary skills, and an overseas dispatch training program designed for young employees to gain experience overseas early on in their careers. We have prepared more than 20 programs for new managers, including harassment and human rights training, which cover various case studies that are based on actual incidents while delving into the meaning of "Trust and Respect" and "Ethics and Morality" stated in the Codes of Practice of The Brother Group Global Charter. Every year 50 or more employees participate in these programs. In FY2020, we conducted training on the prevention of harassment taught by an outside instructor for about 70 manufacturing department managers and leaders. The two-hour training was conducted a total of three times for about 20 participants each time. Participants systematically learned about environments that involve harassment and fundamental knowledge. Discussions based on case studies were also conducted, and participants reflected on their behavior in the workplace. We will continue efforts to achieve harassment-free workplaces.
Besides these programs, in FY2017, we started one-on-one meetings between supervisors and subordinates in Japan. It was introduced to encourage the growth of employees and is being conducted for 80% of the company.
Details of Employee Development Training and Education
Details of employee development training and education*1 (Brother Industries, Ltd.)
| | FY2019 | FY2020 |
| --- | --- | --- |
| Total hours | 99,274 hours | 104,526 hours |
| Average amount of money per employee | 79,778 yen | 49,067 yen |
| Average number of days per employee | 1.09 days | 1.15 days |
| Average amount of time per employee | 26.12 hours | 27.49 hours |
| Training types | position-based education, new manager training, extension training, etc. | position-based education, new manager training, extension training, etc.*2 |
The data cover only the training programs conducted by the Human Resources Dept. and the Production Strategy Planning Dept.

Organized chiefly in the form of online seminars; trainee program and overseas training for new employees were canceled.
Brother Develops Talent Who Can Tackle Global Business Challenges
Employees develop a broad perspective and high expertise through various experiences
Since FY2008, the Brother Group has conducted the "trainee program," a training program that sends trainees from BIL to the group companies outside Japan and vice versa, aiming to foster talent who have a broad vision, high expertise, and the ability to respond to global business challenges.
This training is designed for young employees selected based on Brother's talent development plan to receive on-the-job training ranging from three months to two years in line with the training plans formulated beforehand by both their dispatchers and receivers. The initial focus of this program was to provide trainees with training associated with their area of expertise. However, in FY2015, it started offering training to help trainees gain new knowledge through experience outside their specialty. Such training, for example, includes giving an opportunity for developers to visit customers with sales persons to directly listen to the needs and usage conditions of the customers. In FY2018, the program also started short-term training for engineers in their twenties to learn at manufacturing or repair sites outside Japan for one month.
In this way, the Brother Group gives developers and engineers opportunities to learn other work than their own, and thus strives to develop human resources who can promote the "Brother Value Chain Management" (BVCM), Brother's unique management system to deliver superior value to customers.
Although canceled in FY2020 due to the impact of COVID-19, BIL dispatched 37 trainees to group companies in Germany, Indonesia, etc., while 14 from group companies in the Philippines and China were sent to BIL in FY2019. One manufacturing engineer, who was in their twelfth year at BIL, was dispatched to Brother Machinery Xian Co., Ltd.(BMX), a group manufacturing facility that operates a machinery business in Xi'an, China. By working together with local employees and carefully confirming each step of operations, this manufacturing engineer was able to experience the actual site of events that could not be replicated in Japan, including reviewing and reducing measurement values and the time it takes to carry out processes overall.
Process verification at BMX
The Brother Group will remain committed to fostering globally-minded human resources who can deliver superior value.
Comment from an employee who participated in the trainee program:
Becoming global talent that can contribute to business overall
Production Department, Machinery Business Division, Brother Industries, Ltd.
Hajime Okita
I spent three months working as a team member with the local employees at the manufacturing facility in BMX carrying out improvement activities. My goal was to reduce the number of processes at the manufacturing facility in Xi'an. Naturally, I was proactive in offering up my own comments but I also made it a point to use data and easy-to-understand words to communicate smoothly with local employees and ensure we were on the same page. It was due to the nature of the local facility that I was able to cooperate with local employees to confirm the differences between manufacturing facilities in Japan and China, achieve visualization of manufacturing processes and manage tasks, and realize a training program by preparing a training manual.
Going forward, I aim to undertake improvement activities and talent development to deliver products that are safe, secure, and satisfying for customers while remaining conscious of the need to strengthen collaborations between departments and facilities.
Examples of Talent Development Efforts
AI utilization project to foster AI-led human resources development
BIL launched operational efficiency projects in 2018 under the direct management of the company president. They are aimed at groupwide promotion of automation and greater efficiency in routine tasks by utilizing RPA*1 and artificial intelligence (AI). One such example is the AI utilization project led by the Development Center and the Software Technology Development Department under the slogan "AI Everywhere." to enable AI application voluntarily by each employee. Under the project, the Software Technology Development Department is undertaking a wide range of efforts, such as organizing internal AI training with a curriculum developed independently by the Department, sharing the latest AI technologies and AI best practices within the company through a dedicated intra-site system and AI utilization support to resolve issues at work sites.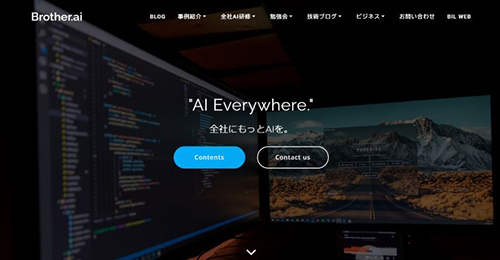 Top page of the dedicated intra-site
The internal AI training program aims to assign at least one AI-savvy employee in each business division and has programming courses for beginners to encourage employee participation regardless of affiliation or level of basic knowledge. The program has been received very favorably among the participants, who said that "it was a great opportunity to learn how to make use of AI, which I knew nothing about" and "actual contact with the program in the workshop helped create an image of what I will be doing." In fact, AI application by employees who have completed the course is growing steadily in various work sites.
Examples of AI application to resolve problems in manufacturing are automation and improved inspection accuracy for the shape of inkjet printer head nozzles and automation of pre-shipment inspection of industrial sewing machines. With project members working together with inspection personnel in each business division on identification of issues, massive data collection and data learning to utilize the AI system and trial system operation, inspection personnel were able to gain greater knowledge in AI application on the worksite level.
Amid accelerating global advances in DX*2, the Brother Group will continue to work actively on IT education to train more AI specialists within the organization to enhance its competitiveness in the market and at the same time contribute to employee development through improving their competencies.
Acronym for Robotic Process Automation, referring to automation of business operations with the robots (replacement of people with robots for multiple routine application operations).

Acronym for digital transformation, referring to advancement in quality of business and life through artificial intelligence (AI) and other information technologies, high-speed Internet and cloud services.