The Brother Group reports its sustainability efforts on its websites and social media in order to respond to requests and expectations from our customers toward achieving a sustainable society.
Communicating the Brother Group's Sustainability Efforts
Brother SDGs STORY
Brother SDGs STORY, a special website on SDGs activities, was launched to publicize the Brother Group's activities to help achieve the SDGs in order to realize a sustainable society. Because the SDGs also encompass environmental conservation and efficient use of energy, the website introduces Brother's environmental conservation activities and environmental technologies as well.
Various 3D characters explain Brother's SDGs activities in an easy-to-understand manner. If you are interested in Brother's environmental activities, the website is worth visiting. It also offers opportunities to join our projects, such as Click Donation.
Brother SDGs STORY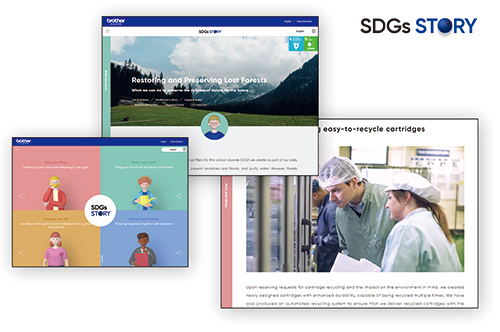 A Simple Outline of Brother's Wish and Activities to Realize a sustainable society
Brother Group Sustainability website PDF data
The Brother Group is working to help achieve a sustainable society, and this document provides specific numerical goals and data of efforts—such as policy, action plans, and activity results—which we have posted on the website, including those in the past.
It is available in English and Japanese.
Sustainability Website PDF Download
Brother's Sustainability Activities Worldwide
Global activities
Expanding the worldwide circle of sustainability.
Please check each website to see the activities in each region.
Africa
Asia
Europe
Middle East
Oceania
The Americas