Flexibility and Cooperation Developed by Listening to Customers
Remaining a company that can transform itself to respond to changes in the business environment
We are facing a rapidly changing business environment, such as the diversification of business tools and markets, and changes in customers' behavior. "Flexibility" and "cooperation with business partners" are indispensable for Brother to handle these situations.
We cope with such changes by listening to customers, taking advantage of the technologies, expertise and know-how we have developed, and working in proper cooperation with partners in new fields such as new businesses.
Brother aims to be able to transform itself in this way.
Brother Holds the Global Service Summit to Further Improve Its Product and Service Quality
P&S offers enhanced support and prompt after-sales services to gain customer loyalty
The Printing & Solutions Business Division (P&S) of Brother Industries, Ltd. has held the Global Service Summit every year since 2007 with the aim of further improving its product and service quality. This summit is the advanced successor of the Global Service Meeting, which was launched in 2000 to discuss quality issues.
The summit is attended by the quality and service departments of Brother's regional headquarters in the Americas, Europe, Asia, China, and Japan to share the basic service policies of the Brother Group and discuss how the whole group works together to address critical challenges towards realizing its global service strategies. Each department reports on its specific activities and data, such as customer support with IT and AI and the analysis results of customer feedback. Participants brought back their findings from the summit to their regions in order to further increase the level of services.
In FY2020, the summit was held as an online meeting with the various regions to prevent the spread of COVID-19. At the summit, we introduced our system for working from home and establishment of new satellite offices that allow the handling of customer inquiries even under the COVID-19 pandemic. We also introduced examples of new customer response mechanisms introduced by countries, including the use of chat, chatbots*, and other technologies in addition to telephone and email.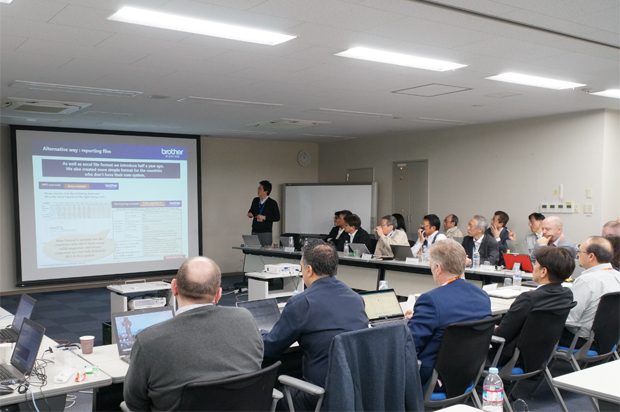 A participant reporting on service activities(FY2019 summit)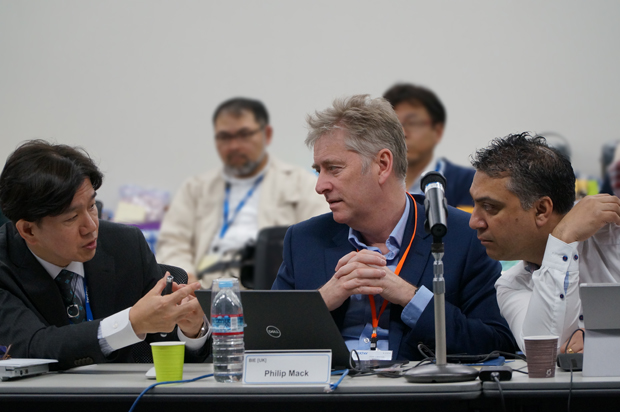 Participants exchanging opinions(FY2019 summit)
The aspirations of P&S's Quality Management and Customer Satisfaction Department are to identify customer needs based on market information and incorporate them into future products and services, and to develop strong credibility with the consumers of P&S products by providing services that satisfy them. To this end, it has been working towards zero defects through an original management system called the "Brother Value Chain Management" (BVCM) and providing continuous full support and prompt after-sales services to win customer loyalty.
P&S will remain committed to promoting global service activities and strive to effectively and promptly deliver products and services that always satisfy customers around the world.
This is a dialogue system that automatically replies to text entered by the user.
Promotion of Logistics*1 Operations that Improves Working Environments and Productivity
Aiming to achieve the SDGs through logistics together with stakeholders
BROTHER INTERNATIONAL CORPORATION (BIC(J)), which oversees logistics related to the Brother's Group international transportation, has identified its own priority issues for the Sustainable Development Goals (SDGs) based on the Brother Group's CSR Management Policy. Various efforts—such as the optimization of logistics and response to diversity—are being undertaken together with group companies and partners toward achieving Goal 17 "Partnerships for the goals."
When loading containers during transportation, while there is the benefit of loading efficiency to directly load cartons without using pallets, significant time and effort are required when unloading and moving into warehouses. This places significant workloads on warehouses and also lead to port congestion and worsening of working environments. Therefore, in recent years, the government and transportation industry are working on the White Logistics Movement*2. BIC(J) works on efficient palletization together with partners, including proposing the use of sheet pallets which save space compared to traditional pallets.
In addition, we also seek to optimize and visualize logistics by using a dashboard*3 to share information with companies in the Brother Group. The dashboard contains the latest information regarding logistics, freight charge trends, a section for information exchange within the Group, and other information. It enables the immediate sharing of fluctuating information within the Group and allows timely information to be provided to customers. Entering information such as product origin, destination, and weight on this dashboard allows simulation of factors such as the optimal transportation method, route, and freight charges. This removes the past practice of inquiring with shipping and airline companies each time, therefore leading to improvements in operation efficiency.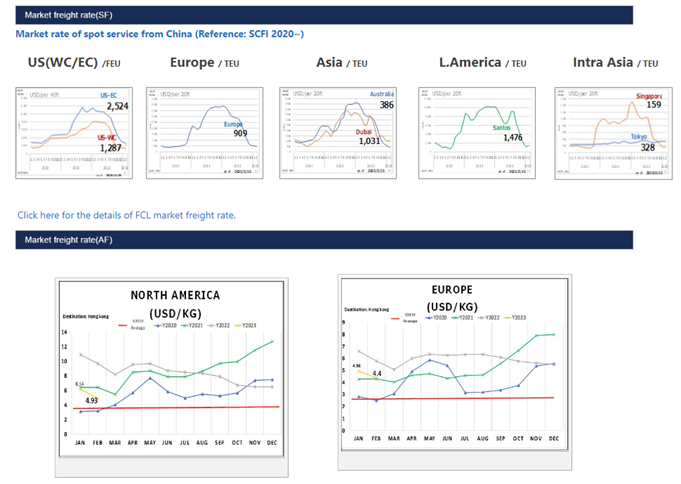 Some information being shared on the dashboard
BIC(J) will continue to provide logistics of even higher quality that meets the expectations and requirements of global stakeholders while always being aware about contributing toward the achievement of the SDGs.
This is an overall efficient system regarding the distribution of goods. It goes beyond the distribution of goods and includes raw material procurement, business management, and cost management.

In response to a worsening shortage of truck drivers, this is a movement that is aimed at the stable logistics operations needed for domestic life and industrial activities while also contributing to economic growth. It seeks to improve productivity in truck transportation, create greater logistical efficiency, and achieve more conducive working environments in the logistics industry.

This is a data visualization tool that allows various data to be understood at a glance using diagrams, graphs, and other means.
Data About Manufacturing and Sales Facilities
FY2018
FY2019
FY2020
Manufacturing facilities and sales facilities
In more than 40 countries and regions
In more than 40 countries and regions
In more than 40 countries and regions
Sales revenue(Consolidated)
683,972 million yen
637,259 million yen
631,812 million yen
Sales revenue by region
Japan
18.2%
19.2%
15.7%
The Americas
30.5%
31.4%
31.8%
Europe
26.4%
27.4%
28.2%
Asia & Others
24.9%
22.1%
24.3%