Brother Supports Young Entrepreneurs Who Address Social Issues and Community Revitalization as a Business
Brother participates in the launch of Tokai Young Entrepreneur Seminar and provides continued support to entrepreneurs
Brother Industries, Ltd. (BIL) participated in the launch of the "Tokai Young Entrepreneur Seminar" to assist young social entrepreneurs who address social issues and community revitalization through their businesses in the Tokai area, where BIL's headquarters are located, and started cosponsoring the activity in 2008.
In the Seminar, Brother works to place businesses on a trajectory for growth, such as by supporting entrepreneurs to formulate business strategies and develop services. As of 2020, it had supported a total of 55 entrepreneurs engaged in nursing care and welfare work, multicultural coexistence, the creation of learning spaces for children, childcare support, town development, and so forth.
In FY2021, four entrepreneurs, who were addressing social issues through projects such as providing support by midwife for women in their pre- and post-natal period, and providing students with learning opportunities outside of school, joined as members of the fourteenth seminar.
Brother establishes a system in which employees can address social issues as pro bono workers
Since 2012, Brother has been recruiting pro bono workers from among BIL's employees and assisting entrepreneurs by using their skills and experience gained from work, and also has been providing opportunities to learn about solutions to social issues through business.
The employees who involved in the seminar as pro bono workers are allowed to spend a total of 50 working hours in six months on the activity. While using time outside of working hours as well, they taught these entrepreneurs how to formulate strategies to enhance the value of the services they provide, narrow down their targets, perform market studies, and develop sales plans by utilizing their skills and experience.
In FY2021, following FY2020, although there were difficulties in conducting the program due to the impact of COVID-19, the main items—such as prior training, final selection of entrepreneurs, training, and final presentation—were all conducted according to the schedule using online platforms as well. Employees who wanted to be involved in or launch a new business participated as pro bono workers, and while supporting the entrepreneurs, the employees themselves learned about entrepreneurship* and were given a good inspiration to advance their own work.
In the survey conducted in February 2021 for past pro bono workers, we received feedback such as "I could see society from a higher perspective through supporting the entrepreneurs," "I felt that it is important to have a deep understanding about customers," and "I had a valuable experience not available within the company."
For FY2022, we will promote more efficient operation of the program by combining face-to-face and online platforms, utilizing the know-how we have previously accumulated on using online platforms.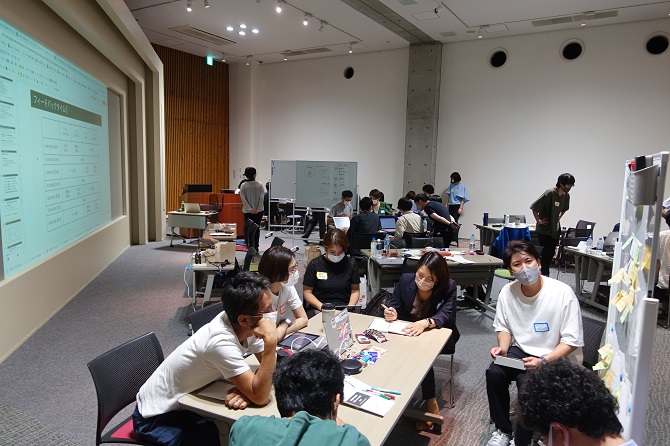 Meeting with the mentor while keeping distance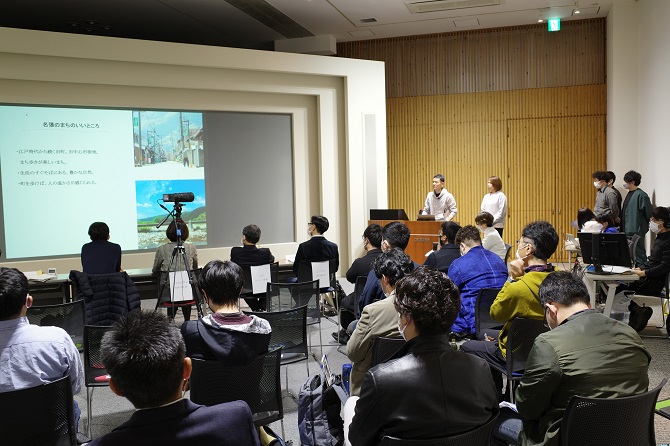 Final presentation conducted both in-person and online
BIL will continue to cosponsor this seminar, which aims to support young entrepreneurs who tackle social issues and community revitalization through their businesses. In addition, we will contribute to society through pro bono work by employees, and at the same time, increase opportunities for employees to learn and grow further to encourage the solving of social issues through business.
The attitude of creating new business and tackling risks
Brother Helps Disadvantaged Youth Find Employment in the Republic of South Africa
Brother sponsors the Youth Employment Service program and provides job training
Broad-based black economic empowerment (B-BBEE) is a government policy that aims to achieve economic transformation and enhance the economic participation of historically disadvantaged South Africans in South Africa.
Brother International S.A. (PTY) Ltd. (BI S.A.) has been a proud supporter of B-BBEE through the Youth Employment Service (Y.E.S) program. We provide disadvantaged youth in the labor market, aged 18 to 35, with job training for 12 months at BI S.A. offices, and various other institutions/host companies. The host companies absorb those recognized for their excellence for employment and continuous training and development.
In FY2022, the company accepted 14 Y.E.S Learners, one of whom was hired as a permanent employee.
Through this initiative, BI S.A. has been helping the country develop socially and economically through transferring skills to underprivileged young people and exposing them to work. According to research, a minimum of 12 consecutive months of work experience raises a candidate's chances of finding employment in their field of expertise by 80%.
The work integrated learning model utilized in FY2022 provided a variety of courses such as standard beginner-level work readiness program units, in addition to hands-on training with Brother products. Furthermore, the program also included a computer skills training for the participants to gain and competently apply the necessary knowledge, techniques, and skills of end-user computing applications in the workplace. As a result, they learned to use Information Communication & Technology (ICT) in an organization to improve work efficiency by combining communication skills with technical computer skills, and 4 of the 14 participants obtained qualifications equivalent to Level 3 in the National Qualifications Framework (NQF).
In FY2022, BI S.A invested over 89% of the targeted spending on the skill development of young, disadvantaged youth. This spend has transformed the lives of the learners academically, professionally, and entrepreneurially.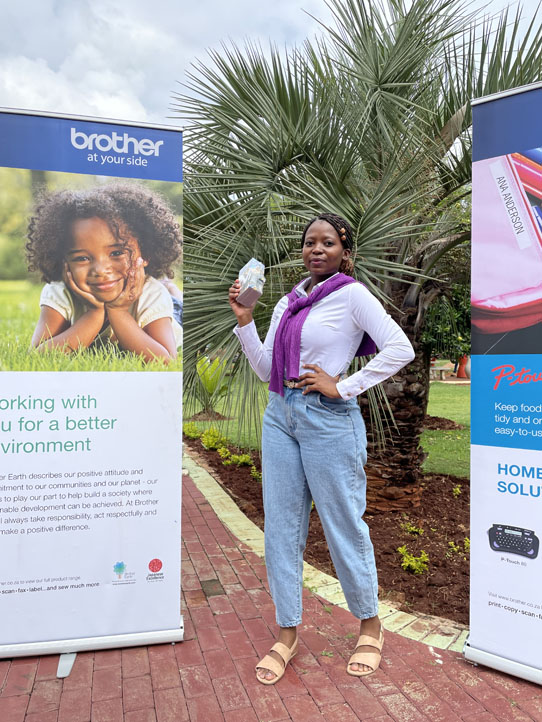 Learners on the Internship
BI S.A. has also been actively promoting historically disadvantaged South Africans in management positions. The Black Executive Management percentage on the B-BBEE scorecard is 50% against the set target of 60%.
As a result of affirmative action measures* put in place for employment equity compliance, Brother International S.A continuously seeks to improve the representation of historically disadvantaged South Africans on all management levels.
An active effort to improve employment or educational opportunities for members of minority groups and for women.
Brother Organizes "Brother Earth Kids Academy" for Children Attending Children's Clubs for After-School Activities
Providing learning opportunities to children spending summer vacation at children's clubs for after-school activities
BIL held the "Brother Earth Kids Academy," an environmental event for children's clubs for after-school activities, from July 22 to August 24, 2022.
The "Brother Earth Kids Academy" has been held since FY2018 for children who spend their summer vacation at children's clubs for after-school activities, providing them with an opportunity to learn about environmental issues through crafts. So far, the event has been held more than 40 times in total, with more than 2,000 students participating.
In FY2022, the "onsite event," which includes visits to children's clubs for after-school activities, and online events were held 12 times, with 400 participants. At the onsite events, the students learned about the causes of extinction by making illustrated books about endangered species, and then learned how global warming takes place, which is said to be one of the causes of the increase in the number of endangered species, and about things they can do in their daily lives that can help prevent it, using illustrations and animations. The students also made name tags using Brother's ScanNCut machine and participated in a quiz about Brother, not only learning about the global environment, but also creating fun memories of their summer vacation.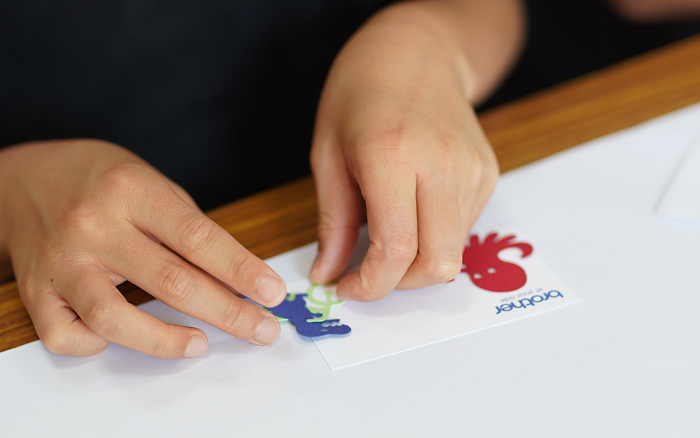 Making name tags using parts cut out with ScanNCut
The students who participated said that the crafts were fun and that the explanation of global warming was easy to understand, while the instructors said that many students enjoy crafts and looked forward to the event, and that it was a good opportunity to think about global warming with their children.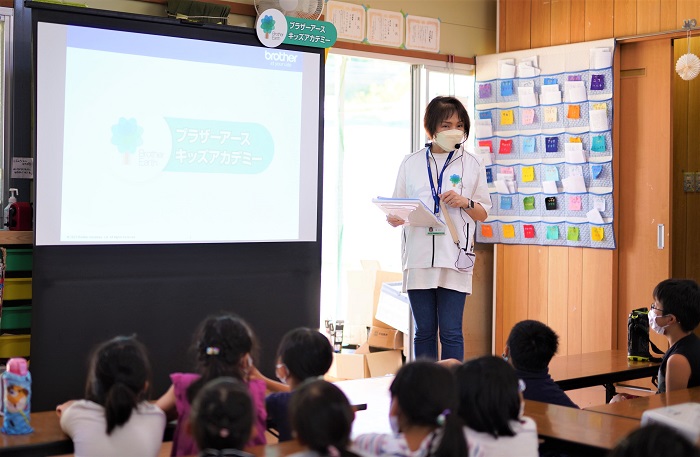 Environmental onsite event "Brother Earth Kids Academy"
In addition, BIL held an environmental event for parents and children of Brother Group employees at Higashiyama Zoo and Botanical Garden in Nagoya in FY2022, providing an opportunity for children to become more familiar with environmental issues.
In recognition of these and other activities, BIL was recognized by Aichi Prefecture for its outstanding efforts to conserve biodiversity as an "Aichi Biodiversity Certificated Outstanding Company."

Going forward, toward achieving a sustainable society, Brother will continue to contribute toward Goal 4 "Ensure inclusive and equitable quality education and promote lifelong learning opportunities for all," Goal 13 "Take urgent action to combat climate change and its impacts," and Goal 15 "Protect, restore and promote sustainable use of terrestrial ecosystems, sustainably manage forests, combat desertification, and halt and reverse land degradation and halt biodiversity loss" of the Sustainable Development Goals by conducting educational support activities in regions and initiatives leading to global environmental conservation.