Brother Supports Young Entrepreneurs Who Address Social Issues and Community Revitalization as a Business
Brother participates in the launch of Tokai Young Entrepreneur Seminar and provides continued support to entrepreneurs
Brother Industries, Ltd. (BIL) participated in the launch of the "Tokai Young Entrepreneur Seminar" to assist young social entrepreneurs who address social issues and community revitalization through their businesses in the Tokai area, where BIL's headquarters are located, and started cosponsoring the activity in 2008.
It had supported a total of 51 entrepreneurs engaged in nursing care and welfare work, multicultural coexistence, the creation of learning spaces for children, childcare support, town development, and so forth as of 2019.
In FY2020, four entrepreneurs, who were addressing social issues, such as creating new value for traditional industries and selling handicraft items from developing countries, joined as members of the thirteenth seminar.
Brother establishes a system in which employees can address social issues as pro bono workers
Since 2012, Brother has been recruiting pro bono workers from among BIL's employees and assisting entrepreneurs by using their skills and experience gained from work, and also has been providing opportunities to learn about solutions to social issues through business.
The employees who involved in the seminar as pro bono workers are allowed to spend a total of 50 working hours in six months on the activity. While using time outside of working hours as well, they taught these entrepreneurs how to formulate strategies to enhance the value of the services they provide, narrow down their targets, perform market studies, and develop sales plans by utilizing their skills and experience.
In FY2020, although there were difficulties in conducting the program due to the impact of COVID-19, the main items—such as prior training, final selection of entrepreneurs, training, and final presentation—were all conducted according to the schedule using online platforms. Similarly, in FY2021, the program will continue to be held as planned while taking full measures against COVID-19.
In the survey conducted in February 2021 for past pro bono workers, we received feedback such as "I could see society from a higher perspective through supporting the entrepreneurs," "I felt that it is important to have a deep understanding about customers," and "I had a valuable experience not available within the company."
To allow the valuable lessons obtained through pro bono work to be properly applied to each employee's work subsequently, from FY2021, the mechanism for pro bono work will be reviewed to make it even better.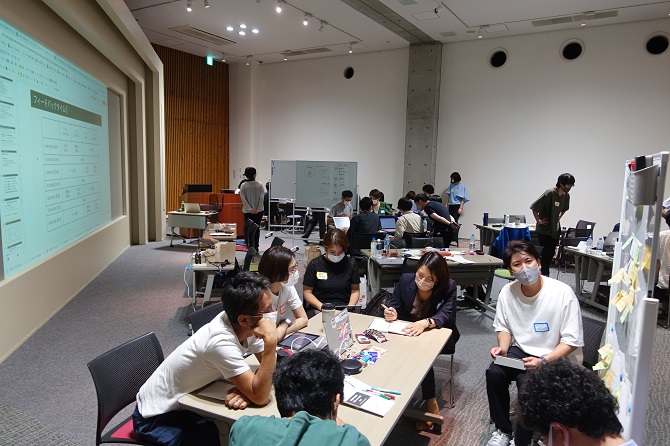 Online and face-to-face meetings while taking thorough measures against COVID-19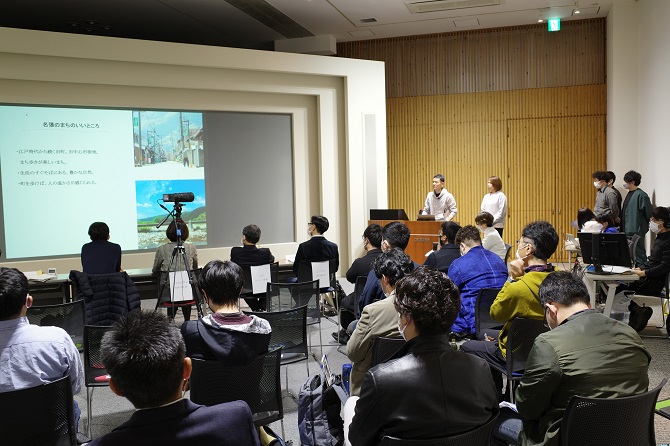 Activity presentation conducted in-person and online
BIL will continue to cosponsor this seminar, which aims to support young entrepreneurs who tackle social issues and community revitalization through their businesses. In addition, we will contribute to society through pro bono work by employees, and at the same time, increase opportunities for employees to learn and grow further to encourage the solving of social issues through business.
Brother Helps Disadvantaged Youth Find Employment in the Republic of South Africa
Brother sponsors the Youth Employment Service program and provides job training
The Republic of South Africa has been promoting the Broad-Based Black Economic Empowerment (B-BBEE), which aims to empower historically disadvantaged South Africans, by enhancing their economic participation, providing them with equal economic opportunities, and restoring their status.
Brother International S.A. (PTY) Ltd. (BI S.A.) has been supporting the Youth Employment Service (Y.E.S) program, a B-BBEE initiative, providing young people disadvantaged in the labor market, aged 18 to 35, with job training for 12 months at BI S.A. offices and various other institutions. The company absorbs those recognized for their excellence as permanent employees. In FY2019, BI S.A. accepted 14 interns aged 18 to 35, and 25% of them were employed by the company after completing their internships. In FY2020, BI S.A. accepted two interns. In FY2021, BI S.A. accepted 1 intern, and the company was employed after completing their internships. On the internship, they were given opportunities to learn about Brother's products and combine these skills with computer courses, entry-level business management, and various other courses. BI S.A. also had 29 learnerships in basic entry-level ICT*1 skills during 2020 and 9 in advanced sewing. Due to the spread of COVID-19, BI S.A. could not provide them with opportunities for sales promotion activities at stores.
Through this internship, BI S.A. has been helping the country develop socioeconomically and underprivileged young people acquire skills because, according to research, a 12-month work experience gives a person an 80% chance of finding employment elsewhere.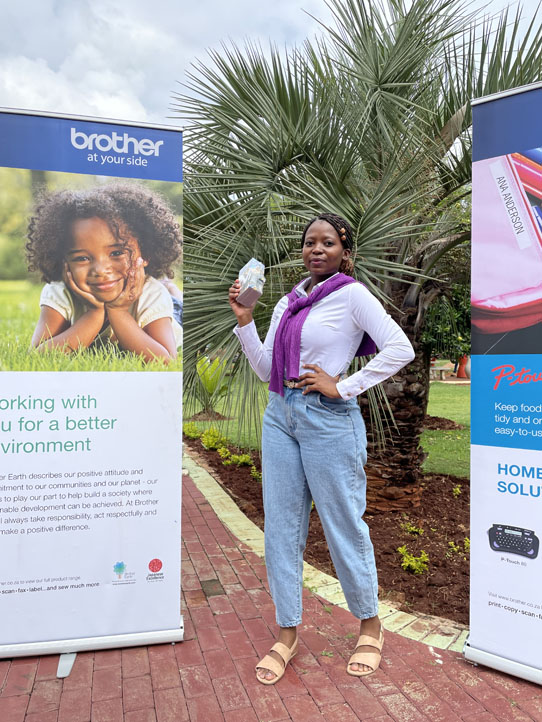 Learners on the Internship
In addition, BI S.A. has been actively promoting historically disadvantaged South Africans in management positions. Black Executive Management percentage on the B-BBEE scorecard is 50% against the set target of 60%.
As a result of affirmative action measures*2 put in place for employment equity compliance, Brother continuous to improve the representation of historically disadvantaged South Africans on management levels.
Abbreviation for "Information and Communication Technology," which means communication that utilizes communication technology.

An active effort to improve employment or educational opportunities for members of minority groups and for women.
Brother Donates Industrial Sewing Machines to Support Efforts Against COVID-19 in the U.S.A.
Supporting Companies Producing Masks
Brother International Corporation (U.S.A.) (BIC (USA)) donated Brother industrial sewing machines to companies in the United States in April 2020 in order to support the production of personal protective equipment (PPE) including masks, demand for which has skyrocketed as a result of the spread of novel Coronavirus (COVID-19) infections.
To meet the demand for masks and other equipment necessary to prevent the spread of COVID-19, apparel brands and other companies are producing PPE in response to a request from the government. To support these efforts, BIC (USA) donated one hundred S-7250A-403 industrial sewing machines to four companies including Brooks Brothers.
The president of BIC (USA) commented on the donation, "It is our hope that the donation of Brother products will be of use in the increased production of PPE, and we are proud to support those who are working in the face of COVID-19."
BIC (USA) will continue such efforts while maintaining an awareness of the importance of contributing to society.
The donated industrial sewing machines before shipment
Brother and XING Continue to Cooperate with the Antarctic Research Expedition Project through Product Donations
Continuing to donate karaoke machines to Antarctic Research Expedition Team from Japan
BIL in partnership with its subsidiary, XING Inc. (XING), a karaoke business operator, donated JOYSOUND brand karaoke machines, loaded with the latest songs, to the 62nd Antarctic Research Expedition team, which departed Japan on November 20, 2020.
The purpose is to provide the team with a change to refresh and recharge as their duties put them under pressure for long periods of time. BIL and XING first donated a karaoke machine to the 55th Antarctic Research Expedition team which left Japan in November 2013. Another karaoke machine was donated in 2014. Of these two machines, one was installed at the Showa Station while the other was brought back to Japan when one of the research expedition teams returned to Japan. Machines brought back from the Antarctic, loaded with the latest music and then returned to the Antarctic. The companies are repeating this routine. The karaoke machine being sent back to the Antarctic with the research expedition team was updated with around 20,000 songs, including recent hits. This machine contains a selection of approximately 315,000 songs, the same as the newest version of JOYSOUND online karaoke.
The National Institute of Polar Research (NIPR), which is conducting the research expedition activities in the Antarctic, commented that team members use the karaoke machine to take a break and relax from the arduous operations they undertake in an extreme environment.
Donated karaoke machine *
Showa Station *
The Brother Group aims to continue to cooperate with the Antarctic Research Expedition project, which plays a crucial role in the research of global climate change, ecosystems, and the universe.
Brother Organizes "Brother Earth Kids Academy" for Children Attending Children's Clubs for After-School Activities
Providing learning opportunities to children spending summer vacation at children's clubs for after-school activities
BIL organized "Brother Earth Kids Academy"-an event targeting children's clubs for after-school activities- ten times between July 29 and August 23, 2021.
Brother Earth Kids Academy is an event that has been conducted since 2018. It targets children spending summer vacation at children's clubs for after-school activities. It conveys the joy of manufacturing and provides opportunities to learn about environmental issues. So far, it has been conducted a total of more than 30 times with more than 1,000 participants.
This event was held at children's clubs for after-school activities in Nagoya, Aichi Prefecture. Until 2019, an on-site event was held at the Brother Museum (Mizuho-ku, Nagoya), the Brother Group's exhibition hall, and in 2020, the event was held online to prevent the spread of COVID-19. The event was also held online in 2021, and from this year onwards, children's clubs for after-school activities not only in Aichi Prefecture but also in Hokkaido and Saitama Prefecture participated in the event, which enabled an exchange across regions. At the event, each children's club for after-school activities was introduced, and children learned about the causes behind endangered species by making an illustrated book about them together. The children also enjoyed learning about the workings of global warming, which is said to be one of the causes of the extinction of species, as well as efforts close to them to prevent global warming through illustrations and animations.
The children who participated in the event commented, "Both the crafts and learning about endangered species was fun." Also, the clubs' instructors commented, "It was a good opportunity to start thinking about global warming with the children," and "It was great to be able to have an exchange with children from other prefectures through the introduction of the children's clubs for after-school activities."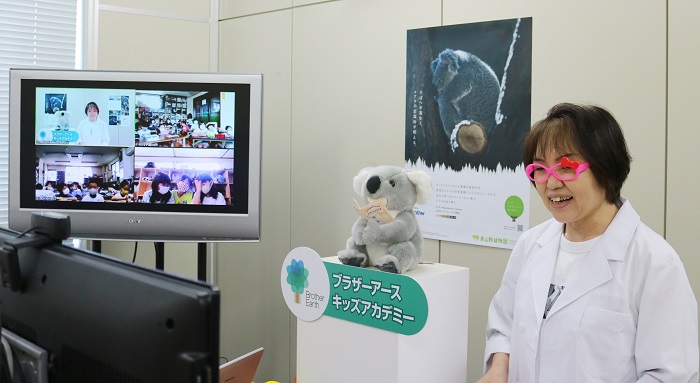 Brother Earth Kids Academy being held online
Going forward, toward achieving a sustainable society, Brother will continue to contribute toward Goal 4 "Ensure inclusive and equitable quality education and promote lifelong learning opportunities for all," Goal 13 "Take urgent action to combat climate change and its impacts," and Goal 15 "Protect, restore and promote sustainable use of terrestrial ecosystems, sustainably manage forests, combat desertification, and halt and reverse land degradation and halt biodiversity loss" of the Sustainable Development Goals by conducting educational support activities in regions and initiatives leading to global environmental conservation.