Brother's Approach to Value Creation
The source of the Brother Group's value creation comes from the spirit of "At your side". "At your side"—the company spirit that places our customers first everywhere, every time. At the global level, based on the spirit of "At your side." and the practice of Brother Value Chain Management (BVCM), which is Brother's unique management system centered on customers, the Brother Group is contributing toward improving productivity and unlocking their creativity of our customers. Through this expansion of customer value, we strive to address various social issues, and at the same time, contribute to society, help protect the earth, and achieve sustainable growth as a company.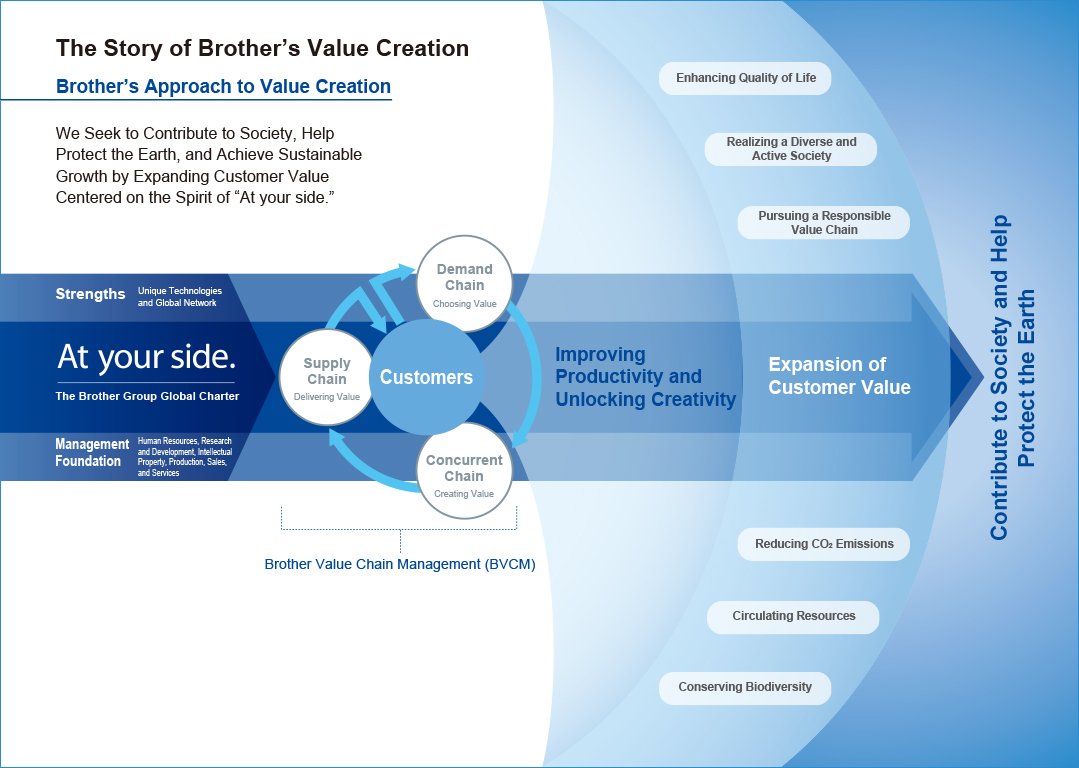 Brother's Strengths
Brother contributes to customers' ability to improve their productivity and unlock their creativity by making the most of a variety of unique technologies cultivated over its history of business evolution, as well as its global networks.
To support all those who wish to keep progressing, we will apply our strengths as a global company with multiple businesses, and while utilizing knowledge gained externally, we will create value, in addition to manufacturing products. In this way, we will help customers to realize their goals.
A Variety of Unique Technologies That Generate New Value
Since its foundation, Brother has generated new businesses by utilizing commonalities between various customer segments and sales routes and technologies and capabilities in order to meet the changing needs of customers and markets. We have used this continuity as the warp and weft and broadened our business scope by weaving the threads. This breadth, along with a corporate culture enabling collaboration across business domains and new value creation through the combination of technologies, are the unique strengths of Brother.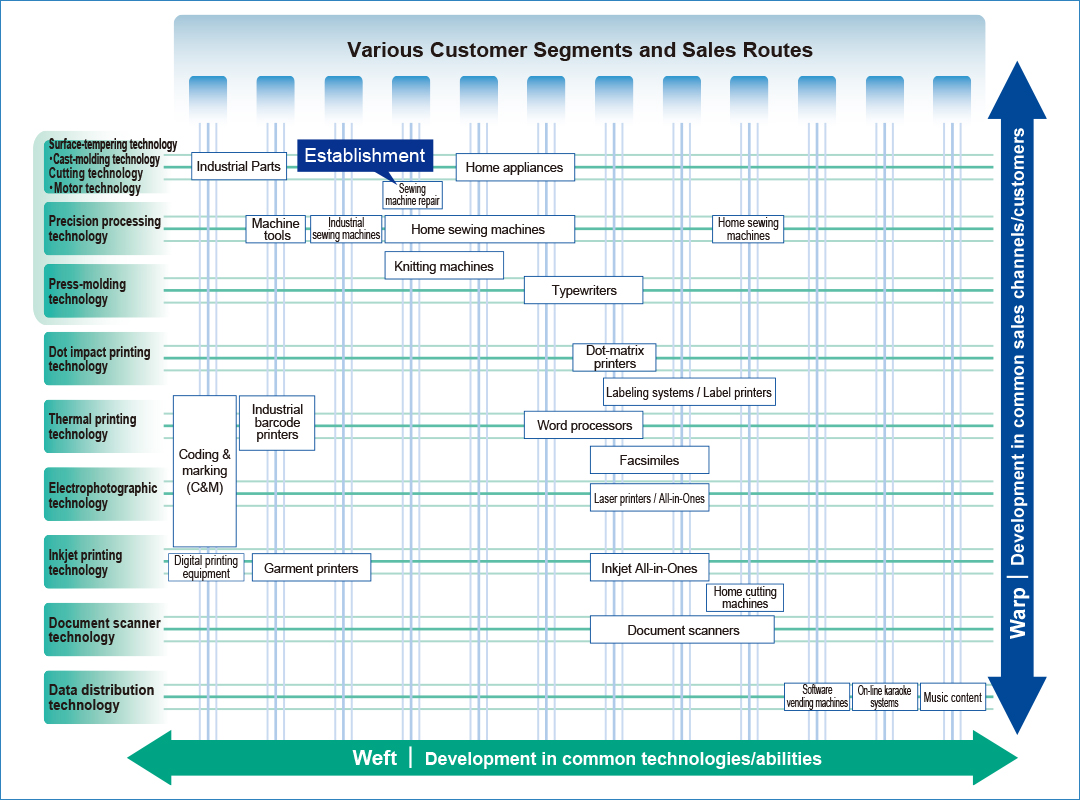 Global Networks That Enable Us to Meet Needs and Provide Value Promptly
To date, Brother has expanded its facilities for development, production, sales, and services in more than 40 countries and regions. Utilizing these global networks, we have developed flexibility to meet customer needs, agility to provide products and services quickly, and cost competitiveness based on efficient networks. These are also part of our strengths. We will continue to leverage knowledge gained externally and collaboration with partners and provide outstanding value promptly through the collective efforts of the Brother Group companies in Japan and overseas.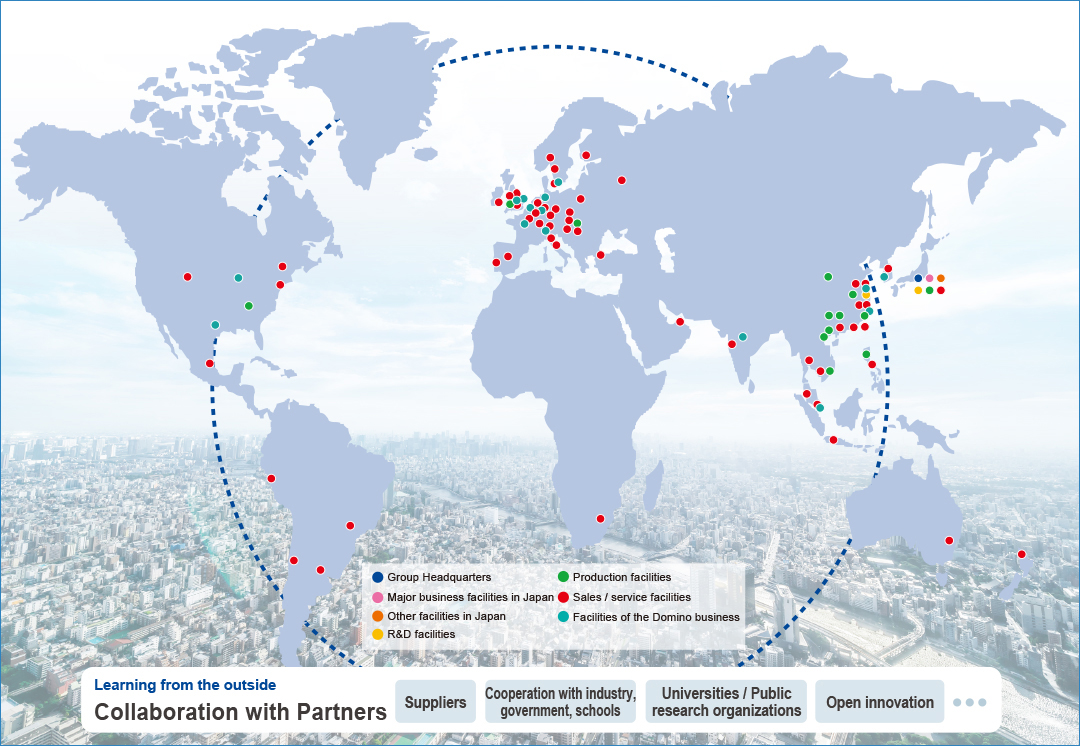 Brother Value Chain Management
The Brother Group considers customer demands and expectations top priority as our guide for all of our business operations including product planning, development, design, manufacturing, sales and service. In order to create and deliver new value quickly, an original management system was built and named the Brother Value Chain Management (BVCM) system.
BVCM is a process for delivering superior value to customers, consisting of three chains - the Demand Chain, the Concurrent Chain, and the Supply Chain. After providing value, we quickly add enhancements while listening to feedback from customers and the market. Furthermore, we will continue to deliver better products and services by executing at high speed our value chain based on a customer-oriented standpoint.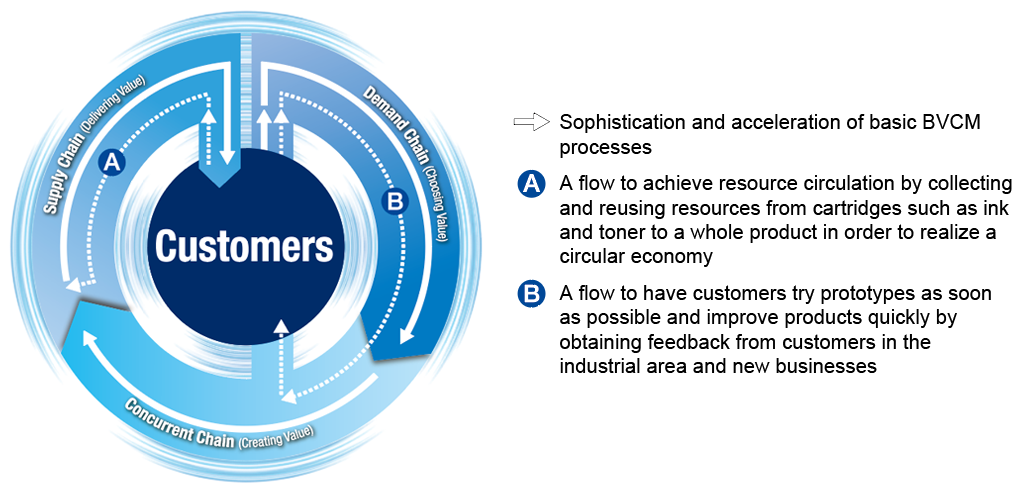 Customer
"Value" chain starting with customers
The opinions of "existing" customers who have already purchased Brother products and "potential" customers who may purchase Brother products in the future are the starting point for all our business activities.
Our call centers, which serve as our important points of contact with customers, receive various inquiries and requests from them. We register such information in our database and share it globally across the entire Brother Group.
Specific examples related to customer feedback
Demand Chain (Choosing Value)
Product Planning, Research and Development
Based on opinions received by call centers around the world and information acquired through sales and service activities and marketing surveys, sales and design departments work together to analyze customer expectations and demands from various angles, such as "how product use environments will change," and "what improvements would satisfy more customers." Through these efforts, they formulate product concepts.
Specific examples related to product planning and research and development
Concurrent Chain (Creating Value)
Development Design, Production Engineering
Product concepts created in the demand chain are given a concrete shape. Product simulations and focus group testing by intended users are run again and again before and after prototyping. Through this process, we develop and design our products speedily while ensuring high product quality. The production engineering department designs optimal production lines to deliver our products at the right time for our customers.
Specific examples related to development design and production engineering
Supply Chain (Delivering Value)
Manufacturing, Distribution, Sales and Service
At the Brother Group's manufacturing facilities, we are working closely with partners, such as parts suppliers, and strengthening manufacturing processes and quality control systems, so as to produce high quality products. Products are delivered to customers through our sales facilities in countries and regions all over the world. We are also providing customers with swift, cordial support via online support over the Internet and call centers in order to make each individual satisfied.
Specific examples related to manufacturing, distribution, sales and service