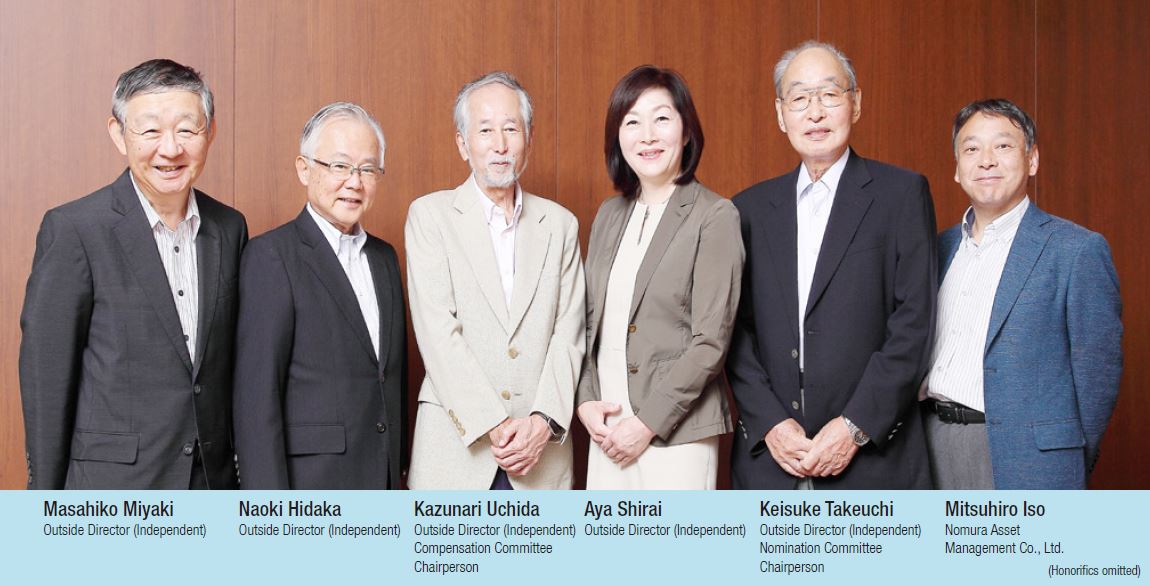 Expertise of Outside Directors and their role in enhancing Brother's corporate value
If I had to choose from my past experience, I would say that having done business in various regions domestically and internationally, having a lot of experience in the B2B field, and having a wealth of experience and knowledge in top management as well as a track record of growing non-core businesses and establishing business foundations will help Brother enhance its corporate value.
I have worked in politics for 16 years. While political decisions are made by majority vote, during the discussion process, it is important to listen to a wide range of opinions, especially the opinions of those without a voice. I believe it is important for corporate management to be accountable, not only to specific stakeholders, but also to local communities and the natural environment.
From working at a business company, I became a management consultant, taking on management responsibilities. After that, I taught at a business school at university. The function of monitoring a Board of Directors has two aspects: the brake and the accelerator. Of the two, I would prefer to play the accelerator role to the best of my ability.
I have worked outside Japan for a total of 14 years, mostly in the steel products business unit of a general trading company. My professional experience also includes setting up new business sites, selling businesses, and mergers and acquisitions. The extensive network I have forged both inside and outside Japan, as well as my experience as an executive board member in the context of evolving governance reforms, help me fulfill my duties as an Outside Director.
I am proud to have been involved in the development of fuel injection systems at an auto parts manufacturer and to have raised them to a global standard. At the same time, there are many failures and hardships in production and sales, and I experience the challenges of creating products that generate customer satisfaction and profits. It is my hope to use my experience and knowledge as an engineer to contribute to Brother's manufacturing.
Current efforts and future improvements to increase the effectiveness of the Board of Directors
Q1. Are there any issues regarding the appropriateness of agenda items brought before the Board of Directors or the advance provision of information?
I do believe that the agenda items are generally appropriate, but I think that more time needs to be devoted to discussion aimed at enhancing long-term corporate value. Also, because the employees making the presentations try to report carefully and in detail, discussion among Directors also tends to lapse into the details at the level of the person in charge. I think there is room for creativity regarding the materials and presentations, being aware of what to communicate and what kind of advice the presenter is wanting. On the other hand, I feel that the provision of information is becoming more appropriate since Outside Directors are now able to do more such as observe management meetings.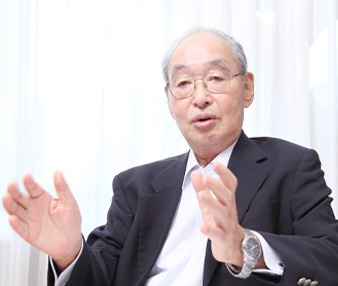 In every company, there exists an information asymmetry between Internal Directors and Outside Directors. If Outside Directors have too much information, opinions will become homogenized. Conversely, if they have too little, Directors will debate on different planes. A delicate degree of discretion is needed, and in this regard, Brother is very well balanced. Rather than having to go via the secretariat, we can hear directly from the Director in charge or from the relevant department manager in advance, so we are able to attend Board of Directors meetings with our questions already clarified. On the other hand, sometimes the same background information is repeated at Board of Directors meetings, so further efforts for improvement are needed.
In a general sense, discussions at Board of Directors meetings have changed dramatically over the past five years. The main objective of meetings used to be for submitting large projects to the Board of Directors for approval, so most of our time was spent on detailed risk analysis and so on. Nowadays, it is necessary for the authority for making decisions to be delegated to Executive Officers and to have fundamental discussion on what Brother should be doing in the medium to long term and on how personnel, materials and money should be allocated. Directors—both Internal and Outside—need to have this grounding. Last fiscal year, I was involved in discussion on the medium-term business strategy from the drafting stage. I feel this enabled me to have substantive discussions with executives in the creation process.
Q2. How would you assess the discussion undertaken at Board of Directors meetings? Are there any issues?
When discussing important matters at Board of Directors meetings, the chair and Internal Directors listen sincerely and attentively to what we Outside Directors have to say. On the other hand, while the board is receptive to the various comments cast by Outside Directors, it is frustrating that remarks are not reciprocated enough from Internal Directors to Outside Directors. My frank impression is that we are not yet at a point where conclusions are reached after an exchange of ideas and opinions.
I also think it would be better to have more interactive discussions at Board of Directors meetings. I feel that, sometimes, Outside Directors are not on point, and I would like it if this were pointed out. It would be nice if we could have more frank discussions.
The way I see it is that there is adequate communication regarding important decisions and the Board of Directors is running smoothly. However, I think there needs to be more in-depth debate and more time allocated to discussing long-term business strategies with an eye to the future, even if it means having fewer agenda items.
Q3. Regarding the functions of the arbitrary Nomination Committee and Compensation Committee, in your capacity as the committee Chairperson, how would you assess those functions from the perspective of improving the effectiveness of the Board of Directors? Do you have any suggestions for improvement?
Five years ago, when I was appointed as an Outside Director of Brother, there was not much discussion about the training of successors for top management, but during the last two years, there has been a priority focus on succession planning for managing executives. The committee discusses in detail what kind of person is most suited to be the next President and who would be a good candidate. Since companies are enduring entities, there needs to be a long-term succession plan that includes the next two generations, and we keep an eye on this aspect as well. We are also keenly aware of the challenges of promoting foreign nationals and women and the internal/external composition of our Board of Directors.
The Compensation Committee met eight times last fiscal year as we discussed revisions to the compensation system. Although enthusiastic discussion ranged from philosophy to remuneration tables, I get the impression that the discussion was a little too detailed. My own personal opinion is that the high priority now for Brother is what to do about the next generation of managing executives, including the Chairperson, and how to nurture the next generation of Directors and Executive Officers. This is, in fact, what the Nomination Committee has been making time to discuss. Of greater importance is Brother's growth strategy, and I would like to see the resources of Outside Directors used more for this discussion.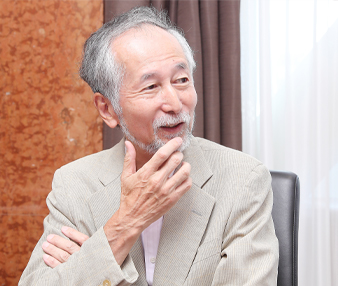 Q4. What is your view of the reasons for, and the effects of, the recent revisions of the officer remuneration system?
The purpose of the recent revisions is to clearly indicate the appropriateness of compensation relative to short-term performance and medium-term targets, and to link it more closely with the enhancement of shareholder value. For example, a revision regarding the reduction of CO2 emissions—one of Brother's medium-term targets—I supported the idea of using the achievement of this target as a lever to create new businesses and reform Brother's business model.
In my assessment, changing from a traditional target-based*1 model to a profit-sharing*2 model achieved a certain level of success. On the other hand, because of the emphasis on transparency and fairness, I feel that some aspects have become difficult to understand. If single-year incentives are too strong, we tend to be short-term oriented, and reforms may be pushed back. Given this, I would like to continue discussing ways to strengthen medium-term and long-term incentives to encourage growth investments for the future.
System in which a certain percentage of profits, such as net income, is distributed

System in which compensation is linked to the company's performance targets and the amount of compensation is determined according to their degree of achievement
Upon my appointment as an Outside Director one year ago, I joined discussions in the Compensation Committee and was surprised at the depth of detail being discussed. While I agree with clarifying one-year and three-year performance-linked benchmarks, I fear that an excessive focus on numerical targets will stop anyone from doing things that will not see the light of day for the next five years but are absolutely necessary for the future. I believe that both perspectives are essential, that is, parts that should be explained in terms of actual figures and qualitative evaluation of strategic moves for the future.
Discussion at Board of Directors meetings for management strategy and challenges for realizing the long-term vision
Q1. What was discussed at Board of Directors meetings regarding the medium-term business strategy, CS B2024?
A draft of "CS B2024" prepared by executives was presented to the Board of Directors in the early stages, and extensive discussions were held, including on the setting of quantitative targets. One of the sticking points was performance targets. Rising inflation and heightened geopolitical risks made determining cost increases difficult, and in the early stages, the executives struggled to set targets for the final year of the medium-term plan. However, I suggested that the target value might be too low and that the forecast and target were different, and after much discussion, the targets were set. Consistent with the concept of incentive compensation, I believe that medium-term plan targets should not be necessarily attainable. Even if ambitious targets are not met, though, the effort should be recognized to a certain extent as long as it leads to the next stage of growth. While I do not support the proposal of unreasonable targets, sometimes reasonably ambitious targets are necessary for growth. I hope to continue discussing this idea.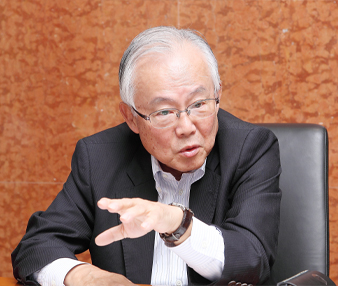 I think the discussion process was very good because Outside Directors could participate in formulating the strategy over the course of nearly a year. During discussions, I repeatedly raised the point of creating and nurturing new businesses while the current business areas remain the backbone of the company. Although Brother is still firmly committed to assigning human resources and developing new business areas, it is important that it further enhances the mindset of taking on new challenges, which has long been a part of Brother, and strives to achieve results with a sense of speed. Whenever possible, we will continue to offer advice based on our experience and knowledge.
Plenty of time was spent discussing the medium-term business strategy, but I think it would have been better for Outside Directors to be involved in two stages: once when input requirements are identified before the strategy is drafted, and once when evaluating it against outputs. I think that more important than the medium-term business strategy is how to realize the vision.
Q2. How will the identified materialities be monitored?
There was good discussion during the process of identifying the materialities, but I feel that not quite enough time was spent setting detailed KPIs for monitoring. Determining the materialities is not the end point. I think there needs to be ongoing discussion, including on how to revise the monitoring indicators and how to manage progress.
I see the identification of materialities as a declaration that Brother is taking on the challenge of non-financial targets that are difficult to visualize. Since some materialities do not lend themselves to clear numerical targets, I think that efforts are needed to ensure accountability, for example, by entrusting evaluation of their progress to third parties. I recognize that we are just at the starting line of this.
It is very important that Brother works to resolve materialities in order to sustainably create social and economic value. At the same time, how does Brother get more employees to understand the importance of this? How does it generate acceptance and imprint it into the organizational culture? I feel it is important that every effort must first be made to gain widespread acceptance within the company, and then to monitor progress.
Q3. What do you see as the most important challenges to realizing the "At your side 2030" vision? How do you hope to contribute to realization of this vision?
I think it is about whether or not Brother can put its basic philosophy "At your side." into practice. By putting more effort into B2B businesses in the future, Brother must gain a deeper understanding of what customers are struggling with at their production sites and must respond properly to those demands. I hope to draw on my experience to make meaningful proposals to meet those demands with the expansion of B2B businesses, especially in the area of industry, as well as to further deepen globalization, develop new businesses, and reinforce business foundations.
In order to realize this vision, I believe it is essential for each employee to think about the vision as their own future, and to improve internal communication and establish connections with customers. Gender equality is a major issue in Japanese society, and Brother is no exception. So that more women can participate in the decision-making process, I also believe it is my duty to promote diversity, equity, and inclusion (DE&I) and to empower women and support their success.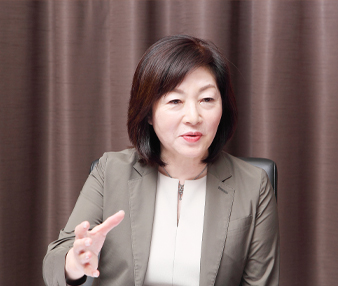 Another option for realizing the vision is to seek outside help and boldly pursue mergers and acquisitions (M&A). If Brother wants to dramatically increase sales in the industrial field, it should also consider more aggressive methods, and must always question whether organic growth is really the best approach. Brother should invest more and put effort into developing new business fields, but since it is cautious in many respects, I intend to encourage managing executives from an external point of view to actively invest and develop new business fields.
Shifting to the industrial field and pioneering new offerings in printing are key to the vision. Brother's strategy for expanding its industrial field is clear, so it is up to how Brother executes it. Drawing on my experience in the B2B sector, I hope to take an active role in supporting Brother's growth. On the other hand, I get the impression that the next developments in printing are yet to be imagined. Assuming that more and more people go paperless as digitalization progresses, I hope to show more specifically what kind of role Brother will play in this area.
In the absence of any major changes in the environment, I believe that Brother can achieve its goal of doubling the sales revenue in the industrial field over the next eight years. I think the biggest challenge, though, will be responding to unexpected geopolitical risks. Brother should not expect that current market assumptions will be the same in eight years' time. Instead, it should take into account the possibility of a situation that, although unlikely, could be very serious if it were to happen. As an engineer, my motto is to create things that are good. I believe that Brother also adopts a policy of not making products that cause inconvenience or evil in the world, no matter the times, as a standard for making decisions.
Q4. What themes should be discussed at future Board of Directors meetings in order to enhance Brother's corporate value?
The growth strategy is what needs to be discussed in depth. It is most important to discuss what Brother should do to grow in the long term.
It is very important to discuss what to do with the business portfolio in the future. On the other hand, since any superficial consideration of new businesses and M&A will not lead to deeper discussion, I would like to take time to ask the engineering team responsible for Brother's future what they want to create and what they are capable of creating. Another topic for discussion is the way employees work. Over the past decade, Japan's manufacturing industry has not been able to create world-first products, and we have lost our competitive advantage in many industrial sectors. I think another important theme is how to manage human resources in a way that is neither just keeping up with the crowd nor across-the-board, including the question of how to reward employees who want to take on more challenges and want to work harder.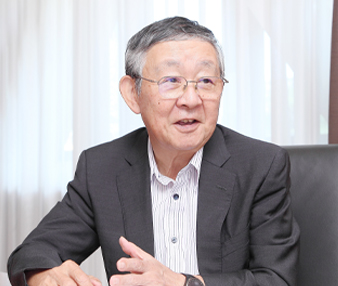 Brother's long history has been built up by our predecessors who continued to engage in manufacturing while pursuing Brother's raison d'être. Another very important theme for discussion is how to promote this DNA by passing it on to the generation that will lead Brother into the future. Other themes I think should also be discussed as we move toward the era of the 100-year life include the way employees work at Brother, the approach we take toward work, and the nature of the company and the individual. To grasp the needs of diverse employees, the relationship between the company and the individual must also be reevaluated. This is another point I would like to discuss in depth.