To Develop Products Valued and Chosen by Customers
Incorporating customers' viewpoints into every aspect of products
At the Brother Group, we consider that true technical capabilities refer to the utilization of our unique technologies to create products and services that customers demand. This is because we believe that excellent technologies can provide value to people only when they are utilized in product design.
In order to offer products valued and chosen by customers, the Brother Group's engineers give full attention and listen to customer opinions sincerely. They devote themselves to value creation by constantly thinking about what technologies they can apply to satisfy customers and what kind of products will support customers.
To Solve Customers' Problems Through Technology
Brother Industries, Ltd. developed PureDrive-FL, a spot cooler for forklifts which serves as a measure against hot weather while reducing CO2 emissions through low power consumption—with the cooperation of Toyota Motor Corporation, which operates more than 3,000 forklifts in Japan.
Among the rising number of heatstroke patients recently, a majority of cases that occur during work are at work sites such as factories. Even though measures such as installing spot coolers have been tried on forklifts, they consume a lot of electricity and place a heavy burden on the environment. As such, achieving both heat reduction and energy conservation has long been an issue for forklift operators and managers.
Therefore, BIL used our thermal fluid analysis technology nurtured through product development so far to develop a spot cooler that has low power consumption while achieving adequate cooling effect even in extreme working environments during summer. Powered by the vehicle's battery, the low power consumption keeps electricity drawn from the battery to a minimum and therefore has almost no impact on the forklift's operating hours. Furthermore, we succeed in miniaturization using our simulation technology. This allows the spot cooler to be installed on the forklift's overhead guard, ensuring safety by maintaining good visibility for the driver. In addition, it contributes toward improving the working environment of forklift operators by having resistance—conforming to JIS standards—against strong shocks and vibrations during forklift operations.
The Brother Group will continue to use our diverse technologies—developed over our long history—to keep providing products best suited to our customers' needs while staying committed to solving social issues.
To Continue Leading Print Innovation by Identifying Potential Needs from Customers' Perspectives
CUTFIT, the industry's first automatic cutting printer that can automatically make A5 copies from A4 paper
The CUTFIT* DCP-J1800N automatic cutting printer, launched in Japan in 2022, is an A4 inkjet printer that can automatically cut the loaded A4 paper in half when printing, enabling printing in A5 size. A survey among printer users revealed that many users cut printed A4 paper in half when copying small items such as driver's licenses or printing data with a small print area, indicating that there is a constant need for printing on small paper such as A5 size paper. This identification of needs led to the creation of the industry's first printer capable of automatic cutting, with a cutter built into the small space within the already compact inkjet printer. The printer can print in either A4 or A5 size as needed, eliminating the need for users to cut the paper in half themselves and saving paper and ink, thereby reducing printing costs and environmental impact.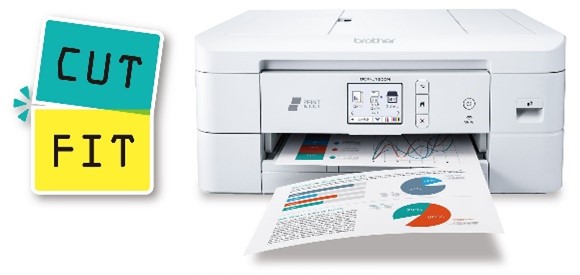 CUTFIT_DCP-J1800N
BIL will continue to carry out product planning that accurately identifies potential needs from the customer's point of view, thereby realizing the goal to "continue leading print innovation and pioneering new offerings," as stated in the Brother Group Vision "At your side 2030."
Product name for Japan only