Brother Group Environmental Vision 2050
The vision aims to support the Paris Agreement and contribute toward creating a carbon-free society with zero greenhouse gas emissions.
GOAL
The Brother Group will aim to achieve carbon neutrality* in all business operations and minimize CO2 emissions from the entire value chain by 2050 so as to contribute toward creating a carbon-free society.
Achieve overall zero CO2 emissions from the Brother Group
Main efforts: Introduction of solar power generation, renewal of air conditioning facilities, renewal and adoption of energy-saving for production facilities, etc.
Progress Towards CO2 Emission Reduction Targets
In the Brother Group Environmental Vision 2050, the mid-term target for FY2030 is set as achieving 65% reduction from the FY2015 level for Scopes 1 and 2, and 30% reduction from the FY2015 level for categories 1, 11, and 12 of Scope 3. In FY2020, we achieved 41.6% reduction from the FY2015 level for Scopes 1 and 2, and 15.8% reduction for categories 1, 11, and 12 of Scope 3.
Mid-term target for FY2030*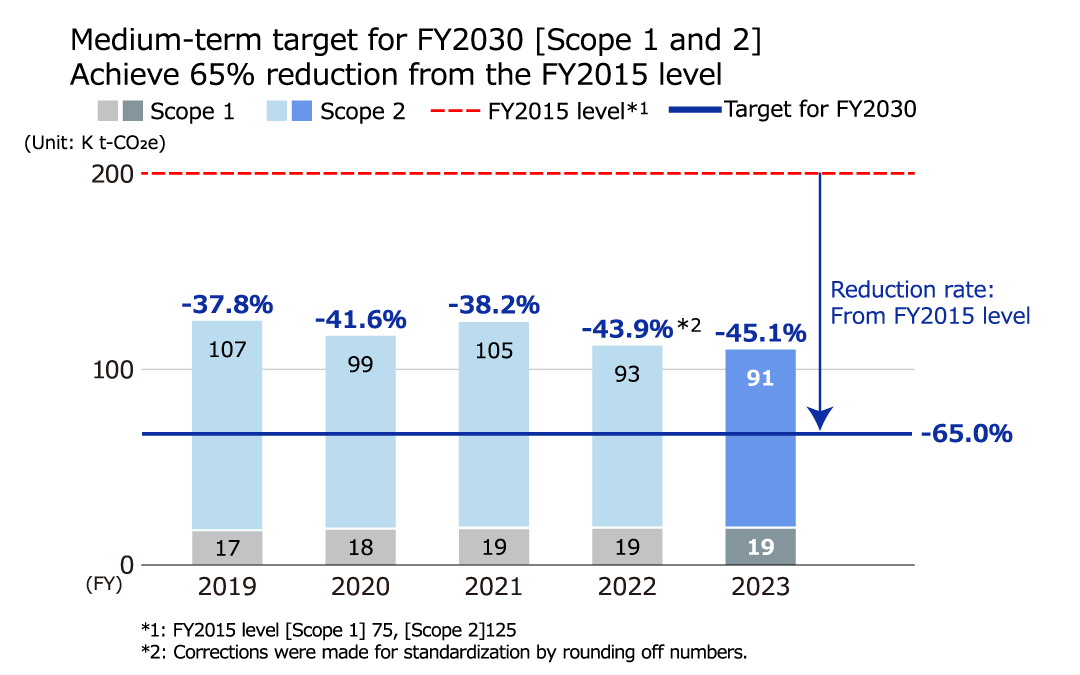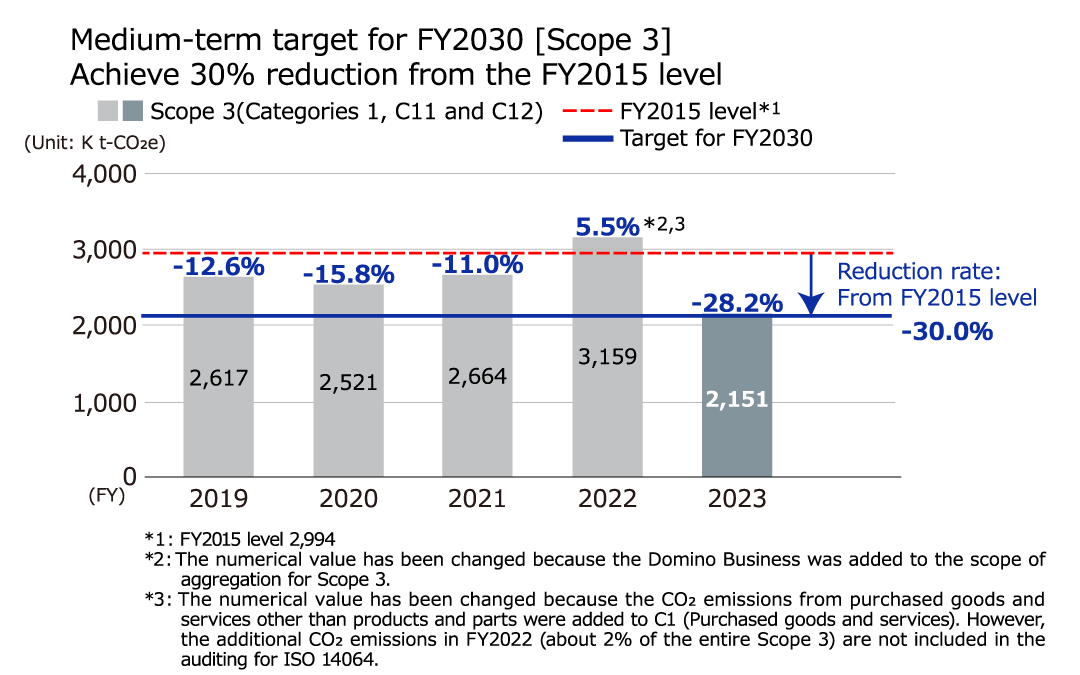 Scope
As the method of calculation for Scope 3's C1, C11, and C12 was changed in 2021, verification was carried out going back to FY2015 (base year).
Scopes 1, 2, and 3 Greenhouse Gas (GHG) Emissions
In FY2020, through reducing the use of solvents containing greenhouse gases which has been undertaken since FY2018, we were able to significantly reduce Scopes 1 and 2 CO2 emissions and the FY2030 mid-term target for Scopes 1 and 2 were achieved 10 years in advance. In FY2021, revising the target upward, we will take on the challenge of achieving 65% reduction from the FY2015 level. At the same time, there are also plans to revise upward the 2°C target set by the Science Based Targets (SBT) initiative, an international initiative established to help achieve greenhouse gas emission reduction targets. Regarding Scope 3, we continue to work on improving the energy-saving performance of products, and achieved a significant reduction of 15.8% for categories 1, 11, and 12 compared to FY2015. We will continue to take on challenge of reducing greenhouse gas emissions with procurement, development, manufacturing, logistics, sales, and service working as one.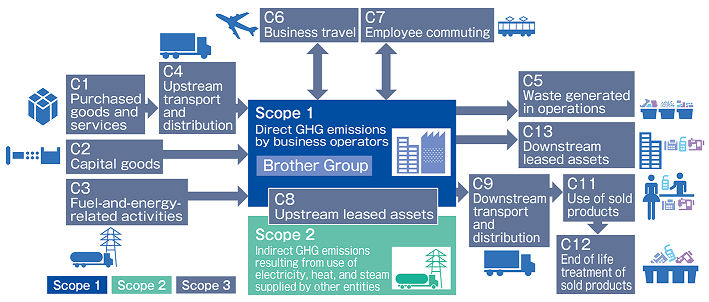 Scope 1, 2, and 3
These are components making up greenhouse gas (GHG) emissions in the supply chain. Dividing into three categories minimizes overlapping calculations and allows specific emissions to be identified.
Scope 1: Direct GHG emissions by business operators
Scope 2: Indirect GHG emissions resulting from use of electricity, heat, and steam supplied by other entities
Scope 3: Indirect GHG emissions other than Scope 1 and 2 (emissions by other entities related to the activities of business operators)
Scope 1, 2, and 3 greenhouse gas (GHG) emissions according to ISO 14064 from FY2017 through FY2019
Category
CO2 emissions in t-CO2 equivalent
FY2016
FY2017
FY2018
FY2019
FY2020
Scope 1: Direct emissions
72,819
67,068
21,622
17,363
18,356
Scope 2: Indirect emissions from energy use
Location-based
123,093
122,220
120,199
107,833
98,508
Market-based
122,244
118,524
122,599
107,285
98,685
Scope 3: Other indirect emissions
3,001,247
3,522,096
3,293,722
2,809,046
2,752,567
C1
Purchased goods and services
1,396,926
1,613,936
1,559,654
1,351,272
1,302,661
C2
Capital goods
59,849
68,872
57,780
56,658
75,897
C3
Fuel- and energy-related activities
10,305
11,334
12,247
10,955
10,987
C4
Upstream transportation and distribution
86,629
70,416
83,395
80,691
103,148
C5
Waste generated in operations
3,357
3,452
2,960
3,680
4,138
C6
Business travel
4,895
4,528
4,414
3,663
1,558
C7
Employee commuting
14,326
15,689
15,557
14,247
14,698
C8
Upstream leased assets
4,312
7,211
6,288
5,176
4,642
C9
Downstream transportation and distribution
18,238
16,017
16,534
15,312
14,671
C10
Processing of sold products
-
-
-
-
-
C11
Use of sold products
1,153,210
1,426,816
1,240,830
998,441
968,174
C12
End of life treatment of sold products
247,470
282,000
292,281
267,207
250,107
C13
Downstream leased assets
1,729
1,729
1,742
1,742
1,886
C14
Franchises
-
97
39
-
-
C15
Investments
-
-
-
-
-
Total of Scopes 1, 2, and 3
Location-based
3,197,159
3,711,384
3,435,543
2,934,242
2,869,431
Market-based
3,196,310
3,707,688
3,437,943
2,933,694
2,869,608
The sources of emission factors for the location-based method are as follows:
IEA, "CO2 Emissions from Fuel Combustion 2018"
GHG Protocol, Calculation Tools
DEFRA
Scope
As the method of calculation for Scope 3's C1, C11, and C12 was changed in 2021, verification was carried out going back to FY2015 (base year).
External Assurance
Efforts to Reduce CO2 Emissions
Amid rising international interest in achieving a society that balances economic development and environmental conservation, the Brother Group aims to contribute toward a sustainable society by creating and promoting a virtuous cycle of business growth and environmental harmony.
In particular, BROTHER INDUSTRIES (U.K.) LTD. (BIUK) and BROTHER INDUSTRIES (SLOVAKIA) s.r.o. (BISK) have started purchasing electricity derived from renewable energy and are advancing activity plans to achieve carbon neutrality.
BIUK is working toward attaining certification for carbon neutrality.
To improve environmental performance while balancing the reduction of CO2 emissions and utility costs, BISK actively uses natural energy. Since December 2020, BISK has been operating an energy system that combines an air conditioning system using heat from groundwater and a solar power generation system. The air conditioning system that uses groundwater heat utilized a well that was originally within BISK's premises.
The energy system at BISK was certified as a project applicable for subsidy from EU's green energy initiative.
In Slovakia, there is a significant difference between temperatures in winter and summer, and a lot of gas energy has been consumed for heating and cooling in the past. With the introduction of this system, the driving force for air conditioning has been switched from gas to natural energy, allowing a large reduction in CO2 emitted during the consumption of gas and significantly contributing toward reducing environmental impact.
The pump for drawing groundwater used in this system is operated using energy generated from solar power, contributing toward reducing CO2 emissions throughout the year. Excess energy from solar power generation is used at the factory.
The great improvement in air conditioning system allows an even more comfortable workplace environment to be provided to employees. It also contributes to the SDG initiatives being advanced by BISK aimed at becoming the company with the highest work satisfaction in the region.
Fundamentally revising the energy procurement and usage method, which relied on external sources in the past, has allowed energy to be stably generated and used within the factory. This has allowed the geopolitical risk from international trends in politics and economics to be met using resilience in the energy system.
Solar power generation system which makes use of the roof
Heat exchange unit that converts geothermal energy to use for heating/cooling
Heating and cooling unit for the factory and office
Examples of CO2 Reduction
Energy-saving performance of Brother's products with customers and the environment in mind
HL-L5000D's power consumption per week is 1.764 kWh/week. This is 16% lower than the previous model, and a 26% reduction from the model before the last.
Brother continues to strive untiringly as a company delivering better products that are friendly to the environment.
Figures calculated using the TEC test procedure.
Thinking about the environment from the perspective of electrical energy—toward a future with widespread use of hydrogen
Toward the development of fuel cell systems, Brother has undertaken many years of fuel cell research while pursuing the potential of hydrogen.
There are still many issues in further widening the use of hydrogen. However, the development of this technology was a steady step into the future for Brother.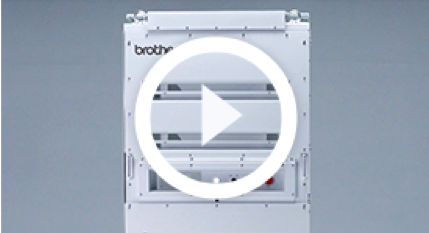 CDP Climate Change 2021 Report