Even in times of vigorous change, we exemplify the "At your side." spirit and seek to achieve further growth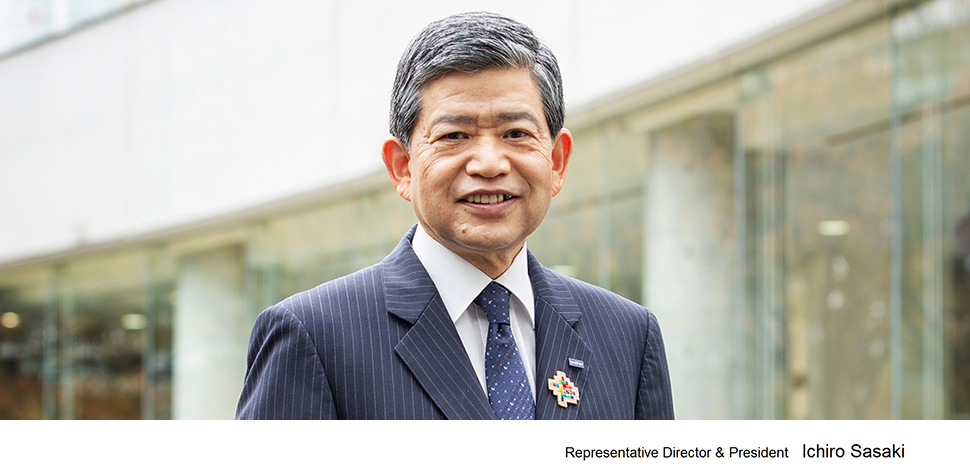 Overview of FY2020
The impact of the COVID-19 pandemic, which started at the end of FY2019, continued through FY2020, and the future of the global economy remained unclear.
Various supply chain-related risks surfaced, including worldwide supply shortages of semiconductors and disrupted ocean transportation; for companies that operate globally, the critical question was how rapidly they could respond to such drastic change.
While paying the greatest care to preventing infection and ensuring the safety of its employees, the Brother Group continued its business activities with the goal of fulfilling its supply responsibilities to its customers. However, due to wide-ranging reasons including urban lockdowns and parts shortages, we inconvenienced some of our customers through the delayed supply of products. Going forward, we intend to preempt various risks, review our business continuity planning, and further strengthen activities aimed at establishing resilient and sustainable supply chains.
Yet even in these difficult circumstances, we worked together with our business partners and innovated as a Group; as a result, our revenues for FY2020 were similar in scale to FY2019, and we achieved a record high in our Business Segment Profits. I would like to take this opportunity to thank everyone who helped us over the course of the year.
Let us now recap the market environments for each business in turn. In the Printing & Solutions Business, offices closed in many countries and there was a subsequent fall in demand for office printing; on the other hand, there was increased demand for small printers and All-in-One, for working and studying from home. In the Personal & Home Business, as people spent more time at home and engaged in handicrafts, demand grew for home sewing machines—and for our popular models in particular. In the Machinery Business, there were signs of recovering demand for industrial equipment particularly in China; with regard to industrial sewing machines, however, the trend toward limiting new investments continued, and demand stagnated. Our Network & Contents Business experienced a continuation of the recent difficult business environments, with the coronavirus pandemic leading to restricted use of and reduced opening hours at karaoke clubs. In the Domino Business, demand for coding & marking equipment remained strong; however, it was impacted by the continuing trend toward limiting new capital investments in large-scale digital printing equipment.
Toward realizing our medium-term strategy "CS B2021"
The theme of our "CS B2021" medium-term business strategy, which commenced in FY2019, is "Towards the Next Level," and the entire Group has focused on priority management issues and carried out the relevant reforms.
The impact of COVID-19 is continuing through FY2021, the final year of the current medium-term business strategy; as such, the business environment is now vastly different to when we formulated the medium-term business strategy. However, we are continuing to engage and carry out reforms in our four management priorities: "Printing–win to survive," "Machinery / FA–accelerate growth," "Industrial Printing–develop a growth platform," and the infrastructure to support these goals, "Form a solid foundation to gain a speed / cost advantage"
Precisely because it is hard to see what lies ahead, it is vital that we do what we can now for the future. In FY2021, we are continuing to establish firm footholds for future growth and promoting reviews and optimizations of our work processes; we are leveraging the results of these improvement activities to create customer value, reduce costs, and accelerate our work processes, and so seeking to establish a more resilient organizational structure. We are also focusing on developing the personnel required for making such improvements; for example, in order to promote AI utilization, Brother Industries is aiming to train 150 employees—which accounts for more than 3% of its workforce—as AI specialists.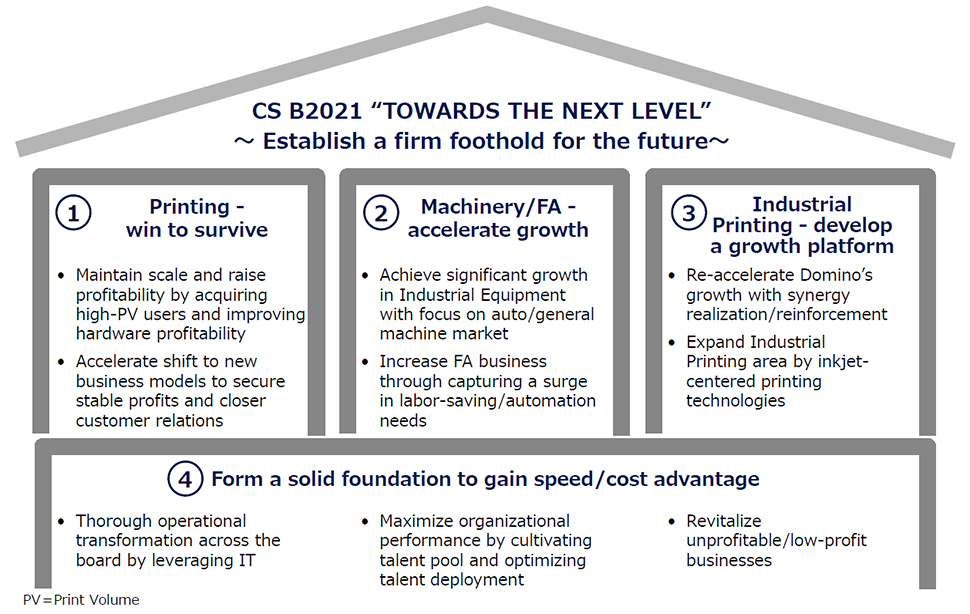 Responding to global-scale social issues
Since its foundation, the Brother Group has sought to use its business activities to resolve the issues faced both by its customers and by society as a whole. Based on this approach of contributing to society through business, we respond to social issues with the goal of establishing a society capable of sustainable growth. In particular, we must position climate change as our greatest priority issue. In addition to global moves toward the realization of carbon neutrality by 2050, natural disasters are occurring with increasing frequency around the world. In order to further promote responses to climate change, we expressed our support for the Task Force on Climate-related Financial Disclosures (TCFD), carried out scenario analyses of the opportunities and risks climate change offers and the risks it poses to our business, and disclosed all relevant information. We have also revised our initial CO2 reduction targets from our "Brother Group Environmental Vision 2050," which we drew up in 2018. Our goal now is to achieve carbon neutrality* in our business operations and minimize CO2 emissions across our entire value chain by FY2050.
We have established systems for resource circulation throughout our entire value chain, and we are making efforts to reduce the amount of new natural resources that are used in our core products. At Group production sites, we continue to promote efficient use of water resources and proper treatment of wastewater. In their efforts to decarbonize, numerous EU countries are promoting circular economy measures. Going forward, such trends can be expected to become more widespread across the world, and it follows that we must strengthen our responses to them.
The Brother Group will also endeavor to fulfill its social responsibilities with regard to its supply chain. Through conformity to the Responsible Business Alliance Code of Conduct and carrying out socially responsible procurement, we will work to ensure that the human rights of our employees are respected—including workers at Group factories—and to provide safe working environments.
It is our Group employees who embody the "At your side." spirit. As customer needs continue to diversify, it is vital that we also respect the diversity and uniqueness of our employees, and engage in personnel development and establish working environments that emphasize individual growth. At the Brother Group, in addition to nurturing global personnel and digital personnel, we are also strengthening initiatives aimed at encouraging women's participation in the workplace; in this way, our goal is to create workplaces in which diversity is respected, and in which every one of our employees has the opportunity to shine.
It is important, too, that we recognize how both social problems and customer needs are changing, and grasp this change as a business opportunity. Let us increase our sensitivity to various social issues, understand what demands must be met, and become a company that is capable of contributing to the resolution of these social issues and improving its corporate value at the same time.
Achieve overall zero CO2 emissions from the Brother Group.
Brother Group Strengths, cultivated through our "At your side." spirit
The "At your side." spirit
The Brother Group was founded in 1908 as a sewing machine repair company, and we have continued to expand our business in the 110 years since. Underlying our activities throughout our history has been our "At your side." spirit. Our U.S. sales facility began using the slogan "We are at your side." in the 1980s; in 2002, we selected the final part of this phrase, "At your side.," to be used as the corporate message of the entire Brother Group. When we revised the Brother Group Global Charter in 2008, we announced a new policy: "The Brother Group places the customer first, everywhere, every time, demonstrating its motto: 'At your side.' by quickly and consistently providing superior value." This policy has become part of our corporate culture, and has been adopted by Group worksites all over the world.
The Brother Group has carried out various business activities rooted in the "At your side." spirit. Going forward, it is imperative that we continue to embody this spirit; yet, at the same time, we must ensure that it evolves in line with the times.
The strengths of the Brother Group
As society has changed, so the business environment surrounding the Brother Group has also altered; as a consequence, each of our businesses faces different issues going forward. However, looking back over our history, many of our businesses have continued to grow and maintain the support of their customers, even in similarly trying circumstances. This is because we have continually transformed ourselves according to the changing times and environments, and continued to provide value that caters to customer needs. To begin with, we must listen carefully to the voices of our customers, and ensure we survive in our core markets. At the same time, we must adopt an "At your side." perspective and engage in new businesses that will become needed in the near future. New challenges are invariably accompanied by failures; however, since its establishment the Brother Group has embraced a culture of recognizing failures as positive experiences and learning from them. Using the technologies and sales networks we have cultivated through diverse businesses, we will continue to embark on various challenges, respond rapidly to customer needs, and achieve sustainable growth.
One of the strengths of the Brother Group is our Brother Value Chain Management (BVCM). This unique management system positions customer feedback at the core of all business activities—including product planning, development, design, manufacturing, sales, and aftersales service—and seeks to respond swiftly to any feedback received. More specifically, BVCM is a process for delivering superior value to our customers through three chains: the Demand Chain, the Concurrent Chain, and the Supply Chain. After providing value, we learn from both customer and market feedback to develop even better products and services. By implementing this value chain swiftly and globally, we are able to deliver superior value to our customers at the earliest opportunity.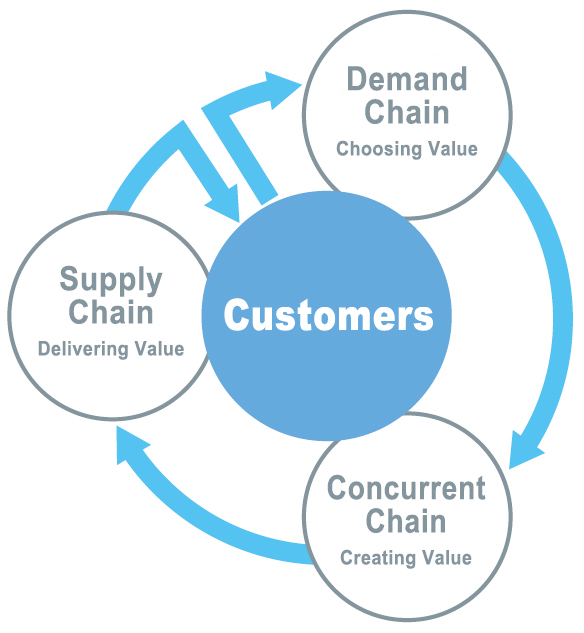 Brother Value Chain Management (BVCM)
Formulating our new vision: "At your side 2030"
Background to the new vision
In order to fulfill the expectations of our stakeholders and continue growing in a sustainable manner, it is imperative that we shape a long-term vision regarding what sort of value we intend to provide to our customers and to society, and to link this vision to our business strategies. To this end, we formulated a new vision which will begin in FY2022 and which outlines our raison d'être (Our Purpose) and how we intend to provide value to society (Our Approach). We will establish and execute our next medium-term business strategy, which is also set to begin in FY2022, by backcasting from this new vision.
The team that formulated the new vision comprised employees of the generation that will lead the Brother Group in 10 years' time. Looking ahead to FY2030, they spent approximately 10 months from June 2020 discussing the raison d'être of the Brother Group, the values it provides to society, and what it wants to have achieved by 2030. The team engaged in numerous discussions with the management, and it was of great significance that younger members of the Brother Group succeeded in adopting a Group-wide perspective, developed an understanding of various business fields in which they had little or no experience, and drew up a vision of the Group's future. The team members, who were drawn from diverse fields, thought seriously about the future of the Brother Group; the sense of unity they forged will undoubtedly be of great benefit when it comes to realizing this new vision.
New Brother Group Vision "At your side 2030"
It was through this approach that "At your side 2030" was formulated.
"At your side 2030" defines the Brother Group's raison d'être and what values it intends to provide as "Our Purpose." It also details "Our Approach"—that is, how we intend to provide value to realize "Our Purpose"—and sets out "Our Focus Areas" from now until FY2030.
When discussing the new vision, I was particularly pleased to hear the team's opinion that the "At your side." spirit is something that must not be changed, yet at the same time must be continually refined in line with the changing needs of our customers and of society; it was this double-edged approach that led to the new vision being named: "At your side 2030." I believe that "At your side." embodies the positive corporate culture that the Brother Group has pursued over the course of its history, and will continue to pursue in the future; it also forms the core of our growth strategy. It is important that Brother Group employees constantly evaluate their behavior from an "At your side." perspective, and act accordingly.
In its definition of "Our Purpose," "At your side 2030" deliberately avoids using the word "customer" and, instead, chooses to use the word "people." This stems from an understanding that the Brother Group must be "At your side." in diverse ways, contributing not only to its customers but to society as a whole and the environment at large.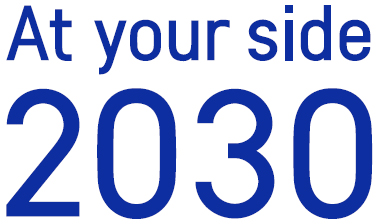 New Brother Group Vision "At your side2030"
Formulating the new medium-term business strategy
In order to realize "At your side 2030," we must visualize what actions we need to carry out today. In other words, we must decide on the medium-term goals and strategies we have to achieve if we want to succeed in realizing our vision, and then execute them with a sense of urgency.
We are currently in the process of drawing up our new medium-term business strategy; we are involved in concrete discussions on a variety of topics, including reform based on digital transformation, ESG-focused management, supply chain reinforcements, and the promotion of human resources development and diversity. The new medium-term business strategy currently being formulated will show the way forward to achieve our new vision, and we hope it will meet your expectations.
The Brother Group will continue to leverage its strengths and transform itself in order to meet the expectations of all its stakeholders, and continue to grow in a sustainable manner. We very much hope for your continued support.
Ichiro Sasaki
Representative Director & President
Brother Industries, Ltd.
October 2021