We will continue responding to change with flexibility and speed, and providing superior value to customers, with the "At your side." spirit in mind, always placing our customers first.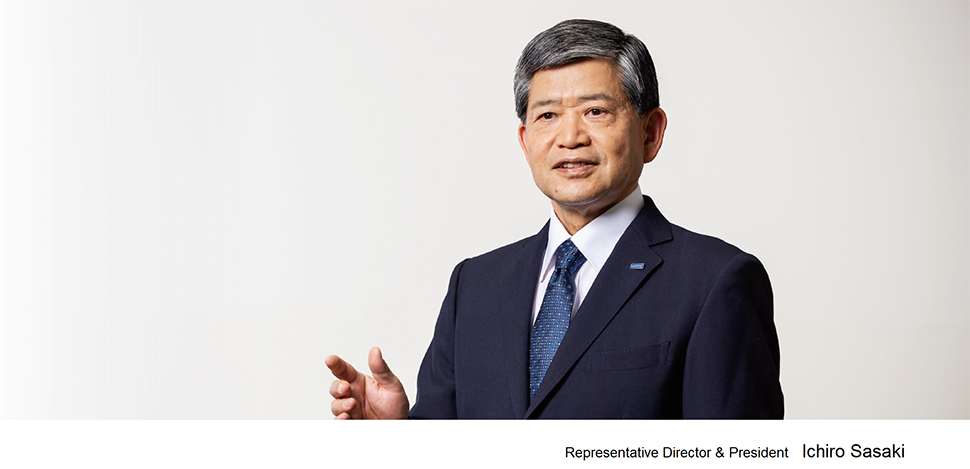 Brother Group's Value Creation


Always responding to change with flexibility and speed, and providing superior value to customers in line with the Brother Group Global Charter

The Brother Group has always conducted business with a sensitivity to the needs of customers and society. Underlying our operations is the "At your side." spirit, which always places our customers first. I believe that, in any era, the most fundamental part of conducting business is to constantly create and provide superior value while adapting our business to the needs of customers.

The Brother Group has also established the Brother Group Global Charter ("Global Charter"), which, in addition to the "At your side." spirit, consists of the Basic Policies and Codes of Practice that guide and govern the daily decision making and actions of employees. Translated into a total of 28 languages, the Global Charter is the foundation of all operations of our 40,000-strong workforce around the world.

The speed of change in this modern world is increasing in every sense, with unexpected events occurring all the time. To continue providing superior value in such an environment, it is important that each and every one of our employees acts autonomously in line with the Global Charter and responds to change with flexibility and speed with the "At your side.&quot spirit always in mind.
Brother Group's Strengths


Demonstrating flexibility, agility, and cost advantage to support the productivity and creativity of customers

Brother was established in 1908 as a sewing machine repair business. Over the years, we have responded flexibly to changing times and evolving technologies, changing our core products from sewing machines to typewriters and now printers as we have continued taking on challenges without fear of failure. This flexibility has been cultivated through the consistent provision of products and services from the perspective of what customers need.

In addition to the flexibility to respond to such changes, our strengths also include the agility to provide products and services quickly, and the cost competitiveness achieved through utilization of our efficient global network in development, manufacturing, sales, and service. We have also created a unique management system called "Brother Value Chain Management" (BVCM), which ensures all business activities start from customer demands and expectations. By leveraging our agility when implementing this system, we will be able to continue quickly providing customers with the products and services they need.

Our flexibility and agility are also being applied to the prevention of COVID-19 infections and in measures to prevent the spread of infections. When there was a shortage of masks due to the sudden increase in demand, the Brother Group used social media to communicate methods of making masks and donated sewing machines for producing masks and medical gowns to companies and hospitals within and outside Japan. In Japan, we also quickly organized our system to produce nonwoven fabric masks in-house to deal with the shortage of masks for employees as well as donating a portion of the masks produced to local governments. We also developed a compact air purifier for personal spaces in a short period of time in an effort to support the creation of safe and clean environments for the karaoke and restaurant sectors. Going forward, we will continue to give top priority to the health of our stakeholders and quickly implement various actions in response to needs.
Implementing the Medium-Term Business Strategy "CS B2021"


Steadily building a firm foothold for future growth "TOWARDS THE NEXT LEVEL"

Amid impact from the global spread of COVID-19, it is necessary to steadily do what we can now for the future, all the more so because of the difficulty in seeing what lies ahead. In FY2021, which is the final year of the medium-term business strategy "CS B2021," the entire group will focus on key management issues and implement transformation based on the theme "TOWARDS THE NEXT LEVEL." We will continue to undertake the four management priorities — "Printing - win to survive," "Machinery/FA - accelerate growth," "Industrial Printing - develop a growth platform," and the supporting infrastructure "Form a solid foundation to gain speed/cost advantage" —while discerning the global situation, and further accelerate our three transformations — business, operational, and talent —and at the same time, strive to build a firm foothold for future growth.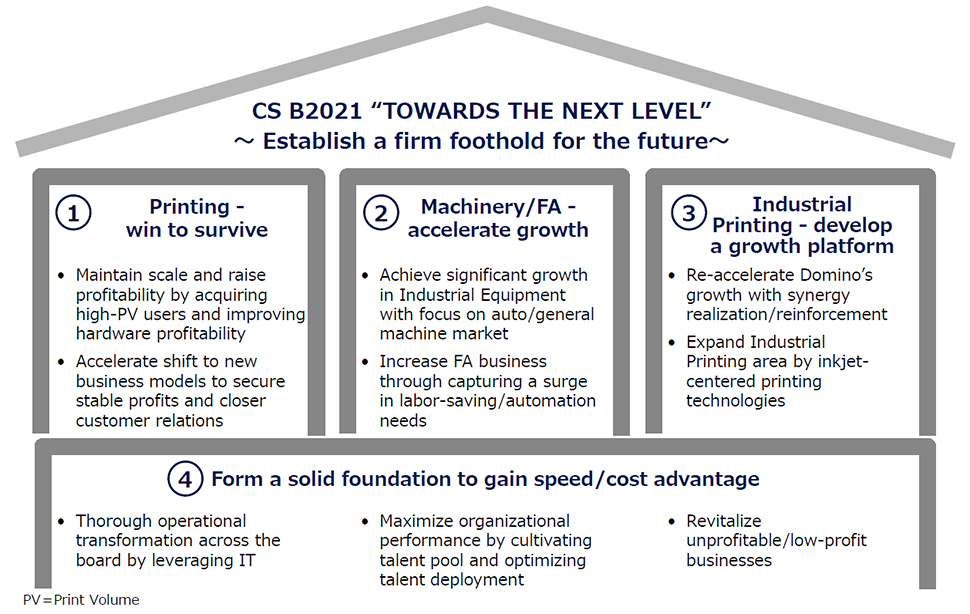 Implementing Environmental, Social and Governance (ESG) Management


Building a strong management structure to create social value through business activities

As the world becomes increasingly aware of environmental and social issues, I believe that every employee must be conscious of ESG and the SDGs*1, and work harder than ever to create social value through our business activities. The Global Charter shows our commitment to building long-term trusting relationships with all our customers and stakeholders by developing our business and fulfilling social responsibilities. The Brother Group has always provided social value through our businesses, from reducing power consumption of printers in use, to reducing the environmental impact of printers by recycling used toner cartridges, addressing manpower shortage by achieving labor-saving of industrial sewing machines with automated sewing processes in addition to high productivity, and improving food safety through ensuring traceability by providing ink that is resistant to heat, water, alcohol and other factors for printing on food containers using coding and marking equipment. In addition, new products that use the diverse technologies of Brother developed over many years—such as fuel cells and spot coolers for installation on forklifts—also contribute toward solving social issues.

At Brother, we have promoted CSR management as an entire group based on the "Basic Policies" and "Codes of Practice" defined in our Global Charter and the Brother Group Principles of Social Responsibility. We also participate in external initiatives such as the United Nations Global Compact*2 and the Responsible Business Alliance*3 to strengthen our undertaking of CSR activities trusted by all stakeholders. Such initiatives also receive strong external recognition, including our selection as part of ESG investment indices such as the FTSE4Good Index Series, under the Health & Productivity Stock Selection Program, and inclusion in the "World's Best Employers" list.

In addition, we also actively conduct social contribution activities. Assistance programs that we have been conducting—such as the Golden Ring Project in support of cancer patients being deployed globally across the Brother Group and assistance for large-scale disasters like the Great East Japan Earthquake—continue to be promoted during the COVID-19 pandemic by using online platforms.

As part of our environmental initiatives and in line with the Brother Group's Environmental Policy, we formulated the Brother Group Environmental Vision 2050 in March 2018 to contribute to solving global environmental issues such as climate change to help build a society that can achieve sustainable development. In particular, for the reduction of CO2 emissions, our Scopes 1 and 2 greenhouse gas reduction targets (30% reduction from the FY2015 level) set as part of our 2030 medium-term targets*4 were achieved in FY2019, 10 years ahead of the plan. Currently, we are working on revising the targets upward for further reduction of CO2 emissions.
In addition, regarding our response to the recommendations of the Task Force on Climate-related Financial Disclosures (TCFD) which we expressed our support in February 2020, we will analyze business risks and opportunities presented by climate change and reflect the results in our business strategies, and at the same time, make all relevant disclosures. Furthermore, the Brother Group is continuously strengthening our framework for quickly responding to the trends in the regulations on chemical substances and energy-saving regulations on products in countries and regions around the world, and is also striving to offer eco-conscious products before new regulations come into force.

In November 2015, we established the "Brother Group Basic Policies on Corporate Governance" and since then we have worked to strengthen our governance in line with these policies. The presence of outside directors is essential for ensuring the transparency of management and appropriately implementing governance. Our board of directors consists of 11 directors, of which five are outside directors, which is a comparatively high ratio. These outside directors are able to offer guidance based on their own experience and specialist knowledge, which leads to productive discussions in meetings of the Board of Directors and many other places.

Going forward, we will continue to strengthen our corporate governance while enhancing corporate value over the long term by optimizing management resources and creating customer value, and focusing on building long-term trusting relationships with all stakeholders by enhancing corporate transparency.
SDGs: The Sustainable Development Goals are a set of common goals for the international community, consisting of 17 goals and 169 targets, that were adopted by the world's leaders at a UN summit in September 2015.

The United Nations Global Compact is a voluntary initiative where, through responsible and creative leadership, participating businesses and organizations act as good members of society to build a global framework for the realization of sustainable growth.

An international industry organization that promotes corporate social responsibility through establishment of sustainable supply chains.

The 2030 medium-term targets were validated as science-based targets by the Science Based Targets initiative (SBTi), an international initiative established to promote the achievement of targets for the reduction of greenhouse gas emissions.
To Our Stakeholders


Passing on the DNA of manufacturing that has confidently taken on challenges, and continuing to evolve as a company providing superior value

We expect the business environment in which the Brother Group operates to continue undergoing dramatic changes into the future, but it is essential that we are able to operate in any environment. This is yet another reason that we must pass on Brother's DNA of manufacturing, that has confidently taken on challenges, to enable every one of our employees to improve their abilities by taking on a wide range of challenges and using those diverse experiences to create new value for customers.

It is precisely because the business environment is changing so rapidly that we will continue to evolve as a company, uniting with employees with the "At your side." spirit in mind to quickly deliver superior value and greater satisfaction than ever to customers.

Brother Industries, Ltd.
June 2021