Brother Develops an Industrial Thermal Printer Dedicated for Automatic Packers
Brother realizes high-quality printing at any speed by utilizing its printer technologies
Thermal transfer* (thermal) printers are typically installed in food production lines because they do not use liquid ink for printing. Brother has developed an industrial thermal printer dedicated for automatic packaging machines by utilizing the thermal transfer technology used in its P-touch label makers. This thermal printer can be integrated into automatic packaging equipment for confectionery and bread products and print expiration dates and so forth.
At Brother, a great deal of consideration was given even to the key components of this printer to enable it to use a high-capacity ink ribbon cassette yet achieve high-speed printing. This device, equipped with the motor control technology that incorporates the comprehensive know-how of the Brother Group, also has the ability to spin and stop a heavy, long ink ribbon at high speeds, and thereby realizes an increase in printing speed and less cassette replacement. Furthermore, with Brother's unique printing control technology, it can offer beautiful printing at a uniform concentration even under mechanically stressed conditions, such as acceleration and deceleration.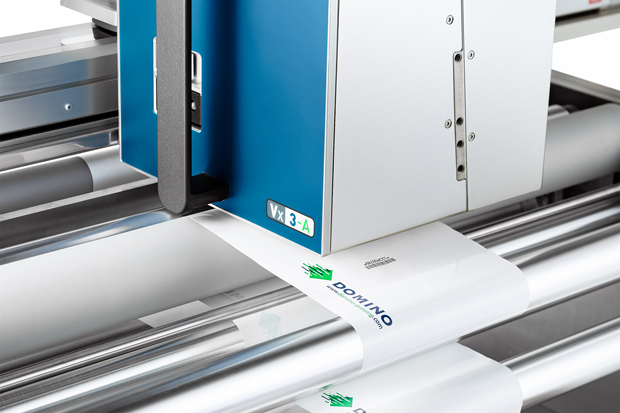 High-speed printing performance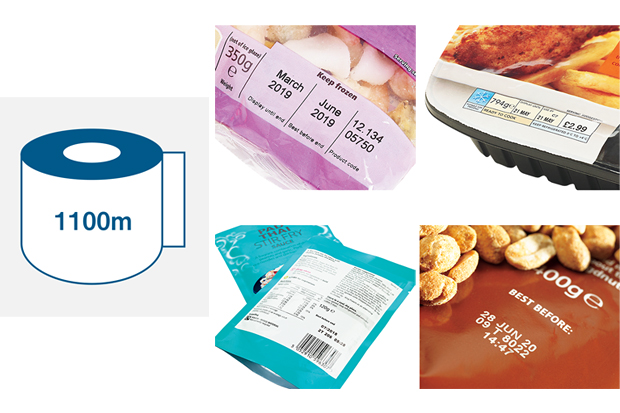 High-capacity ink ribbon and print samples
The Brother Group will remain committed to advancing its technological capabilities to provide the best products for customers.
A technology that creates an image by transferring heat-sensitive ink from a ribbon onto a substance such as paper
Brother Ensures Stable Procurement of Cost-Competitive Parts
Brother enhances collaboration with its suppliers through parts shows at manufacturing facilities
The Purchasing Department of the Quality, Production & Engineering Center at Brother Industries, Ltd. has been strengthening ties with Brother's suppliers through parts exhibitions held at Brother's main facilities outside Japan to better procure parts.
The parts exhibition held at Brother Industries (Vietnam) Ltd. in 2019 had approximately 200 visitors from more than 70 partner companies and provided a productive opportunity to exchange various opinions.
In such parts exhibitions, the Purchasing Department provides information about precautions in product assembly, key points in quality management, packaging forms, and so forth to participating suppliers while working together with the procurement, production, and quality management departments in Brother's manufacturing facilities. Subsequently, the departments solicit those suppliers' ideas and suggestions on cost reduction and the possibility of local procurement. The suppliers, meanwhile, aim to expand their business by considering how to contribute to Brother's manufacturing with their production technologies.
One of the participating suppliers commented that participation in the parts exhibitions enables him to get a deeper understanding of even the parts that his company has never supplied, and thus gives him a good opportunity to identify his company's strengths and weaknesses and reflect them in quality and cost improvement efforts for further business development.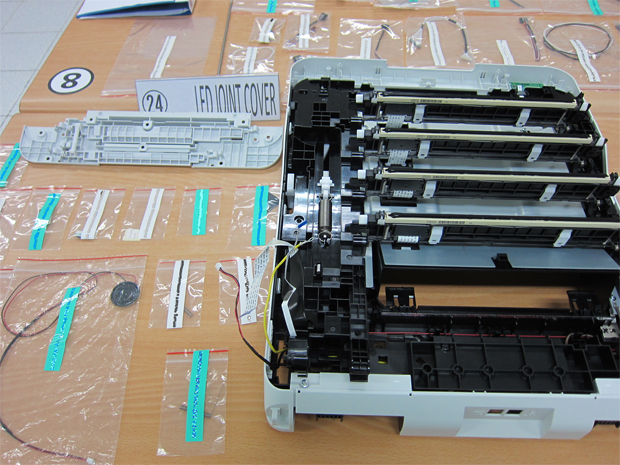 Printer parts on display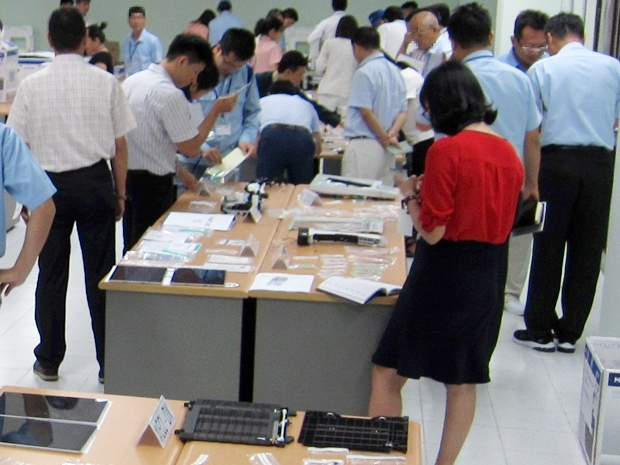 Participating suppliers in a parts exhibition
The Brother Group will continuously strive to build strong trusting relationships with its business partners and grow and develop together to ensure stable procurement of high-quality and cost-competitive parts in dramatically changing business environments.