Brother's global business, which started with the export of sewing machines, began full-scale operations after it established overseas subsidiaries in the United States in 1954 and in Ireland in 1958. Subsequently, Brother continued to increase the number of its sales facilities around the world, mainly in Europe and the Americas, and it acquired a major sewing machine manufacturer in the United Kingdom in 1968. The 1960s and the 1970s were the period to prepare for the 1980s when Brother started full-scale global operations.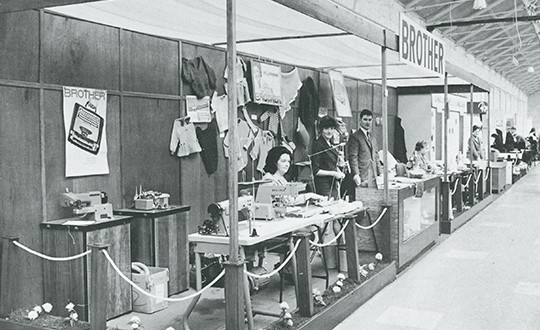 Showroom in Europe
Chronology
1961

Prototypes of JP1-111 alphabetical portable typewriters shipped to the U.S.

First model of portable typewriter JP1-111

1961
Small lathes for schools launched as the first machine tool product.
1962
NIPPON SEWING MACHINE MANUFACTURING CO. renamed as BROTHER INDUSTRIES, LTD.
1962
BROTHER FRANCE SAS established in Paris, France as a regional sales company.
1962
Production of tapping machines started using in-house technologies for sewing machine processing. Entry into the machine tool field.
1964

BROTHER INTERNATIONAL GmbH established in Frankfurt, Germany as a regional sales company.

BROTHER INTERNATIONAL GmbH

1965
Exports of compact electric typewriters to the U.S. started.
1966
Production of electronic calculators, Brother's first fully electronic product, started.
1968
BROTHER INTERNATIONAL (NEDERLAND) B.V. established in Amsterdam, the Netherlands as a regional sales company.