The beginning of the Brother Group dates back to 1908, when Kanekichi Yasui established a sewing machine repair business. Subsequently, Kanekichi's son, Masayoshi, took over the family business and began to develop a great ambition to manufacture sewing machines domestically within Japan to convert the import-based sewing machine industry into an export-based industry. He gained a foothold when he manufactured a chain-stitch sewing machine for the production of straw hats and successfully produced the first home sewing machine in 1932. Masayoshi then developed the equipment to manufacture sewing machines with Jitsuichi by themselves. This "independent development" has been inherited as Brother's DNA.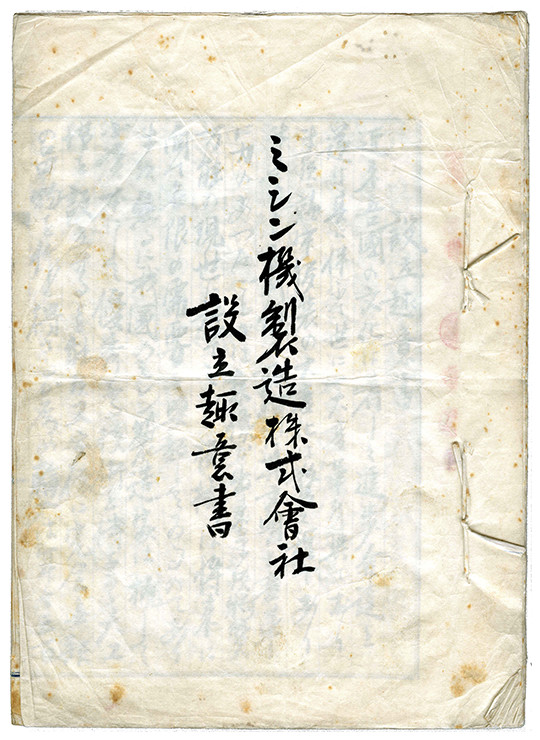 Prospectus of Establishment
Chronology
1908

Kanekichi Yasui established YASUI SEWING MACHINE CO., the predecessor to BROTHER INDUSTRIES, LTD., in Nagoya. Repair of sewing machines and production of sewing machine parts commenced.

Kanekichi Yasui

1926
Kanekichi Yasui died in November 1925; YASUI SEWING MACHINE CO., was succeeded by his son, Masayoshi. The name of the company changed to YASUI BROTHER'S SEWING MACHINE CO., and a new sales outlet set up on the main street in Temma-cho, Atsuta-ku, Nagoya, Japan.
1928

Sales of Sho-san-shiki Sewing Machines (chain-stitch sewing machine used in the production of straw hats) under the BROTHER trademark began.

Sho-san-shiki sewing machine

1932

Brother succeeded in local production of Model 15 Type 70 domestic sewing machines (the first model of domestic sewing machines from Brother).

Domestic sewing machine
Model 15 Type 70

1934
YASUI BROTHERS' SEWING MACHINE CO. reorganized to create NIPPON SEWING MACHINE MANUFACTURING CO.
1941
Established BROTHER SALES, LTD. as a sales company for the Japan.