CS B2021
The Brother Group has formulated the new medium-term business strategy "CS B2021" for the period from FY2019 to FY2021 as a road map to achieve the medium- to long-term vision "Global Vision 21."
Medium-Term Business Strategy "CS B2021" detailed information
Outline
Establish a firm foothold for the future under the theme "TOWARDS THE NEXT LEVEL"
Under the medium-term business strategy "CS B2018," started in 2016, the Brother Group was committed to three transformations: business, operational, and talent, with a goal to transform itself to a multi-business enterprise. As a result, the group has achieved significant profitability enhancement in the printing area and sales growth in the industrial area.
However, the business environment surrounding the group will change significantly and become increasingly severe.
With these understandings, the Brother Group believes that it is essential to implement more in-depth transformation to achieve its medium- to long-term vision, "Global Vision 21." Under CS B2021, with a new theme of "TOWARDS THE NEXT LEVEL," the group will implement transformation by focusing on the critical few, the four management top priorities below, and strive to build a firm foothold for future growth.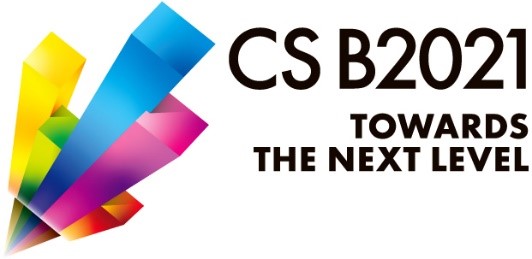 In the Printing area, maintain business scale and enhance profitability to win a leading place by acquiring high-PV*1 users and improving hardware profitability through an accelerated shift to new business models that enable Brother to establish closer relationships with customers.
In the Machinery and Factory Automation*2 (FA) area, actualize substantial growth in the Industrial Equipment area by focusing on automobile and general machine market, while expanding FA business across Machinery organization by capturing growing needs for labor-saving and automation.

In the Industrial Printing area, re-accelerate the growth of the Domino business by reinforcing the synergy effects between Brother and Domino Printing Sciences plc in new product development as well as grow business by leveraging Brother's inkjet-centered printing technologies.

Establish a firm foundation to gain speed and cost competitiveness by group-wide thorough operational transformation with IT, talent cultivation, and optimal talent deployment so that Brother can achieve a sustainable growth even in a severe business environment.
Print volume

Automation of various factory work and processes using machines and information systems.
Financial Targets*1
| | Targets for FY2021*2 |
| --- | --- |
| Sales revenue | 750.0 billion yen |
| Operating profit | 75.0 billion yen |
| Operating profit ratio | 10.0% |
Based on IFRS

Exchange rate : 1USD=105Yen, 1EUR=125Yen
The latest financial information is posted on "Financial Information."
Financial Policy
Investment
Set up a 50 billion yen growth investment fund to expand the industrial area, create/develop new businesses, etc.
Investment policy
Accelerate growth investment including M&A to further expand the industrial area, create/develop new businesses, and reinforce inkjet-related facilities
Industrial area
Machinery/FA
Enter the market adjacent to machining center such as machine tools for preceding/ following processes or peripheral equipment
Industrial Printing
Expand the adjoining area from the existing business by leveraging Brother's printing technologies featured by inkjet
Shareholder return/ROE
Maintain stable returns to shareholders aiming for a consolidated dividend payout ratio of 35% while making essential strategic investments
Shareholder return

Raise the target of consolidated dividend payout ratio to 35%

In principle, prioritize maintaining a constant dividend amount even under severe circumstances

ROE
CSR Management Policy
Contribution to the Sustainable Development Goals (SDGs)
Achieve social value creation through business activities, envisioning CS B2021 and beyond
| Brother's priorities | The Sustainable Development Goals (SDGs) |
| --- | --- |
| Seek to provide innovative products and services that make our customers happy | |
| Continue to make efforts to help the global environment | |
| Continuously promote social contribution activities | |
| Enhance collaboration with business partners on ways to address social demands quickly | |