Manufacturing Facility for Printers and All-In-Ones in China Becomes the First in the Brother Group to Receive Platinum Certification from the RBA
October 13, 2023
Brother Industries, Ltd.

Brother Industries, Ltd. (President: Ichiro Sasaki) today announced that its manufacturing subsidiary BROTHER TECHNOLOGY (SHENZHEN) LTD., which produces printers and All-in-Ones, has been audited by the Responsible Business Alliance (RBA), a global organization that promotes corporate social responsibility, and received Platinum certification, the highest rating. This is the second facility in the Brother Group to obtain RBA certification, and the first to obtain Platinum certification.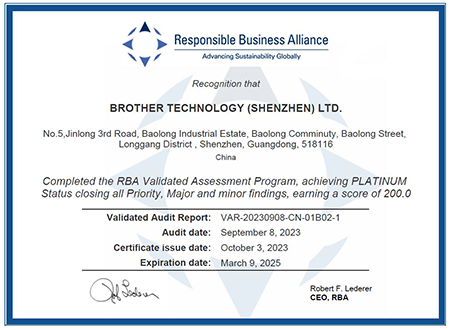 BROTHER TECHNOLOGY (SHENZHEN) LTD. is a manufacturing facility in Shenzhen City, Guangdong Province, China that produces printers and All-In-Ones. It recently underwent an audit by a third-party organization certified by the RBA, and was recognized for the categories of labor, safety, environment, ethics, supply chain management, and appropriate management of these management systems, and obtained the highest score of 200, receiving the first Platinum certification for the Brother Group.
The RBA is a global organization whose member companies are committed to fulfilling their social responsibilities through the establishment of sustainable supply chains. Its Code of Conduct sets out standards to ensure that working conditions are safe, that workers are treated with respect and dignity, and that business operations are conducted environmentally responsibly and ethically. The organization requests its members to pursue compliance with the respective standards through their management systems. The RBA audit is a system in which a third-party auditing organization evaluates whether humane and sound management is being carried out correctly in accordance with its Code of Conduct. Evaluations are conducted through on-site audit by a third party, and Silver (160 points or more), Gold (180 points or more), or Platinum (200 points) certification is issued depending on the score.
The Brother Group has identified five materialities in order to "contribute to society and help protect the earth," which are "Our Purpose" in the Brother Group's vision toward FY2030, "At your side 2030." To address one of the materialities, "pursuing a responsible value chain," the Group has set the goal of attaining RBA Gold certification for three Group manufacturing facilities by FY2024. BROTHER TECHNOLOGY (SHENZHEN) LTD. is the second company in the Brother Group to receive this certification, following BROTHER INDUSTRIES (VIETNAM), which received Gold certification last year.
The Brother Group will continue to contribute to the realization of a sustainable society throughout its global supply chain by respecting the human rights of workers and ensuring a safe and secure working environment through its commitment to the RBA Code of Conduct and the expansion of CSR procurement.
BROTHER TECHNOLOGY (SHENZHEN) LTD.
| | |
| --- | --- |
| Address | No.5 Jinlong 3rd Road, Baolong Industrial Estate, Longgang District, Shenzhen, China |
| Established | April 2006 |
| Employees | 2,841 (As of March 31, 2023) |
| Main Business | Manufacturing of printers and All-in-Ones |