Brother Wins "iF DESIGN AWARD 2021" for 4 Categories
April 15, 2021
Brother Industries, Ltd.

Brother Industries, Ltd. (President, Ichiro Sasaki, hereinafter Brother) has won "iF DESIGN AWARD 2021" for 4 product categories.
iF DESIGN AWARD 2021 received about 10,000 entries from 52 countries and regions. This is the 14th consecutive year Brother has been named as an iF DESIGN AWARD winner and has now received a total of 78 awards, including the five won this year.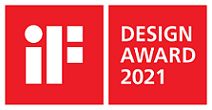 <Winning Brother products: iF DESIGN AWARD 2021>

Scanner
DS-940DW / MDS-940DW / DS-740D / DS-640

Labeling System
P-touch CUBE PT-P910BT

User interface of Numerical control unit
Machine tools CNC UI D00

Embroidery monitoring mobile application
My Stitch Monitor
iF DESIGN AWARD is hosted and judged by the iF-International Forum Design, in Hannover, Germany. This is one of the most prestigious international design competitions and has been running since 1953. It is recognized around the world because judged not only on external appearance of the product, but also on criteria such as functionality and environmental performance.
We are extremely honored to receive these awards. Brother continuously makes efforts to pursue improvements in design quality and product innovation to provide superior value to customers.