Brother Joins 2020 List of "World's Best Employers"
November 12, 2020
Brother Industries, Ltd.

Brother Industries, Ltd. (President: Ichiro Sasaki) today announced that the company was included in the 2020 "World's Best Employers" list by Forbes Magazine in partnership with Statista. This was the fourth annual list and the first time Brother was ranked (No. 130) among 750 multinationals and corporations headquartered in 45 countries.
"We are honored that Brother was listed as one of the World's Best Employers," said President Ichiro Sasaki. "It is a testament to our values and commitment to our employees, who bring Brother's "At your side." promise to life every day."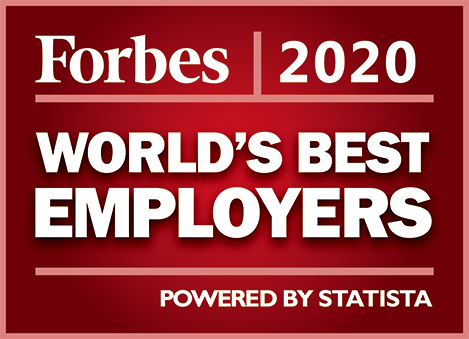 The ranking was based on survey results from 160,000 full-time and part-time workers across 58 countries working for businesses with operations in multiple nations and regions. The survey was conducted from June to July by Statista, a German market research firm. Respondents rated their willingness to recommend their own employers to family and friends as well as their company's responses to the COVID-19 pandemic and other aspects such as their company's image, economic footprint, talent development, gender equality and social responsibility.
Since Brother Group foundation, the company has confidently taken on challenges and adapted to changing times and environments, consistently continuing to cultivate new markets and growth. Since the pandemic began, Brother Group has instituted a multitude of COVID-19 related safety measures across our locations, including distribution of face masks to essential employees and making necessary process and policy updates to keep employees safe. Our global workforce is fueled by top talent and a collaborative culture and remains committed to delivering seamless product solutions with a customer-first philosophy.
"Brother continually strives to reward, motivate and recognize our employees and create meaningful solutions to enhance and enrich the lives of our employees, customers and communities," said Sasaki. "As a global employer, we know our values will guide our approach and our business. This recognition is significant and a moment of pride about how our employees across the globe feel about working for Brother Group."