MECHANICAL ENGINEERING HERITAGE NO.15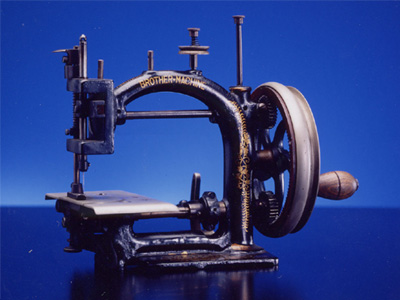 In the early 1920s, the Japanese sewing machine market was largely dominated by Singer sewing machines. In 1928, amid tough times for Japanese sewing machine manufacturers, the Yasui brothers, the founders of Brother Industries, Ltd., developed and sold a chain-stitch sewing machine specifically for producing straw hats. To create this product, they had to develop machining and heat treatment technologies necessary for manufacturing sewing machines.
In particular, surface tempering technology was essential for increasing the surface hardness and ductility of materials used for sewing machine components that require high abrasion and impact resistance. Such technology, however, was not widespread in Japan at that time. The brothers, after much trial and error, established a carburizing and hardening technology. Based on this technology, they started developing Japan's first chain-stitch sewing machine used for the production of straw hats, aiming to compete against German products that dominated the market, and created the one which offered greater durability than foreign products. Although their new machine did not sell well initially after it was released, its durability was highly valued by users.